---
---
Q: What is an Instant Office? Is there a better choice for my business?
A: Instant Office is a service that connects individuals to flexible workspaces. While this service may be useful in the short term, an Alliance Virtual Office is a much better choice for your business if you hope to scale effectively.
---
Before the pandemic, business owners could operate online, but doing so wasn't as common as today. According to the International Trade Administration, global ecommerce revenue increased by almost 20% from before to after Covid-19.
Considering this large increase, it's no surprise that everyday people are eager to start their own businesses to secure a piece of the ever-growing e-commerce market share.
In the past, potential business owners were forced to pay considerable sums to start companies.
They had to worry about finding traditional office space, paying a large security deposit, expensive monthly rent payments, and more. In addition, if these traditional business owners decided on a poor location, they were typically out of luck.
Now that approximately 56% of full-time American workers can do their jobs remotely, starting a business is easier than ever.
Thanks to tools like Virtual Offices, entrepreneurs can start a business from the comfort of their homes without risking exorbitant amounts of capital.
Unfortunately, some lower-quality services may appeal to entrepreneurs too.
Because so many online businesses operate from home, the search for accessible yet flexible workspaces is never-ending for many, and many entrepreneurs simply aren't aware of the options they have at their disposal.
Instead of securing a Virtual Office that provides space, some entrepreneurs are settling for an Instant Office that provides much less.
In this article, we'll explain what an Instant Office is and some of Instant Office's reviews. We'll then cover Alliance Virtual Offices before determining which is right for your business, and finally, we'll look at the best Virtual Office that Alliance has to offer.
So, if you're interested in learning more about Instant Offices Holdings Inc, but want to explore your other options, you're in the right place.
Keep reading to see what the Instant Office Group has to offer and to understand what sets Alliance's Virtual Offices apart!
---
---
What is an Instant Office?
The pandemic's lasting effect on remote workstyles can't be overstated.
According to Forbes, 2021 saw almost three times more workers employed in remote positions than they were in 2019, before the pandemic.
In other words, almost 20% of the American workforce adopted remote work between 2019 and 2021.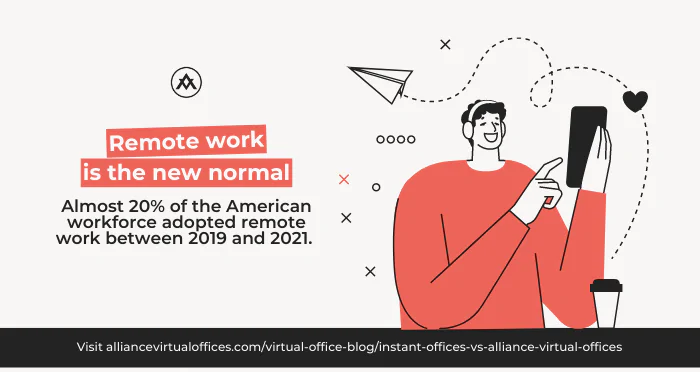 Because of this influx of remote work, countless businesses have popped up that are designed to provide services to entrepreneurs, remote workers, and established business owners alike.
Instant Office, while not a new venture, is a company designed to provide office services to those who need them.
Instant Office is a part of The Instant Group, a workspace company launched in 1999. Although Instant Office focuses on finding workspaces for companies, The Instant Group has services that range from commercial consulting, benchmarking, and insight analytics to portfolio management, c-suite brokerage, and office solutions.
That said, in this article, we'll be dealing exclusively with Instant Office and the services they provide.
Before we explore Instant Office, let's take a moment to describe a Virtual Office.
---
Read more: What is a Virtual Office and How Does it Work?
---
A Virtual Office is a service that allows individuals or businesses to establish a mailing address and telephone number in a prestigious location without needing physical office space.

It's worth describing Virtual Offices now because while Instant Office provides workspaces, these workspaces are much different from a standard Virtual Office.
Below, we've created a list of what sets Instant Offices aside from a high-quality Virtual Office.
Pair businesses with workspaces
Focus on workspaces
Not a network
Flexibility is the largest focus
Price isn't discussed
Middlemen vs providers
Integration is difficult
Pair businesses with workspaces
Because Instant Offices is a service that connects people to flexible workspaces, their main goal is helping to pair businesses with workspaces whenever and wherever necessary.
Rather than finding long-term office space, Instant Offices focuses exclusively on finding the best deal right now.
Focus on workspaces
For the most part, Instant Office focuses on finding workspaces. They mention virtual offices, but their focus is almost exclusively on procuring workspaces for those looking.
Not a network
Unlike other Virtual Office providers, Instant Office isn't a network.
Instead, they're a service that pairs people with all available options on the market. This can present problems for those looking for longer-term solutions, as sometimes the only available options on the market are only available short-term.
Flexibility is the largest focus
Focusing on flexibility isn't bad, as flexibility is one of the most important aspects of running a modern business. Still, Instant Office focuses almost too heavily on flexibility rather than longevity.
This focus on flexibility results in offering short-term leases and finding office space that's only available for days or weeks at a time. Sure, this helps businesses stay flexible, but it isn't conducive to growing a business.
Price isn't discussed
This focus on flexibility in conjunction with the lack of a network prevents Instant Office from speaking much about pricing.
Because Instant Office is a negotiator rather than a provider, they have no reason to discuss pricing until they've found a workspace for your business.
Middlemen vs providers
It's almost certain that you'll wind up paying more for some of Instant Office's space.
This is because they act as a middleman rather than a provider. The short-term nature of the rentals they offer carries a premium that can be negated by dealing with Virtual Office providers.
Integration is difficult
Finally, the lack of a clear network may make it more difficult or more expensive to add services as your business grows.
Part of what sets virtual offices aside from services like Instant Office is the opportunity to integrate countless other tools into the services you're using daily to grow your business.
As you can see, Instant Office may be useful for individuals searching for workspaces, but it leaves a lot to be desired for companies looking for a prestigious address.
What is an Alliance Virtual Office?
Now that you understand what a Virtual Office is and the difference between a high-quality Virtual Office and an Instant Office, let's explore what sets Alliance apart from its other competitors.
Aside from a streamlined setup process, Alliance provides countless amenities to entrepreneurs hoping to effectively scale their companies.
---
Read more: How to Make Virtual Office Set Up Fast and Easy
---
Below, we've put together a list of some of Alliance's greatest benefits.
Prestigious address
Mail forwarding
Security
Workspaces and meeting rooms
1000+ locations
Cost-efficient plans
Clearly defined network
Prestigious address
Something that sets Alliance Virtual Offices apart from nearly all of our competitors is our commitment to providing excellent business addresses.
An Alliance Virtual Office is a legitimate Virtual Office that provides your business with a prestigious address you can use for registration.
Other virtual office providers will use PO boxes or nonexistent addresses that may not even be used for LLC registration, but Alliance only utilizes professional and well-known addresses.
Mail forwarding
Alliance also offers mail forwarding to your home address, allowing you to keep your residential address private while operating remotely.
---
Read more: Unlock Full Flexibility with Business Mail Forwarding
---
Other providers force their clients into paying for mail forwarding that they may not even need.
At Alliance, our mail forwarding is optional. We don't want our partners to pay for anything they aren't actively using.
We've created four separate tiers that businesses can use depending on how much incoming mail they receive.
The first tier, monthly mail forwarding for $10 per month , is designed for new businesses. Receiving your mail once per month isn't frequent enough to stay updated on what mail you're receiving, but it is a great way to familiarize yourself with our mail forwarding procedures.
The second tier, twice monthly, or biweekly, mail forwarding for $20 per month , is also designed for newer businesses. The forwarding on this tier is similarly infrequent, so it's not enough to keep you fully up to date, but it is enough to ensure you never go more than a couple of weeks without accessing your mail.
Keep in mind, for these first two tiers, you can always compensate for the infrequency of the mail forwarding with pickup visits to your Virtual Office Center. You may have to spend extra gas money and time on your pickups, but it's an easy way to stay informed with the less regular mail forwarding options.
The third tier, weekly mail forwarding for $30 per month , is designed for companies that are seeing an increase in the volume of their incoming mail. Weekly forwarding keeps you from having to make frequent trips to the Virtual Office Center but isn't regular enough to keep you 100% up to date.
Our fourth and final tier, daily mail forwarding for $70 per month is frequent enough to keep you fully updated.
As you can see, Alliance provides several tiers of mail forwarding to ensure your business, regardless of where you are in your journey, has the resources to get your mail as frequently as necessary.
Security
Alliance Virtual Offices provides a secure and safe business address that solidifies your business's reputation.
Keeping our partners safe is paramount to the success of our operations and the rest of our networks' operations too.
Other providers don't do any vetting for the individuals who sign up for a virtual office. As you can imagine, this leads to bad actors using the space for scams and other nefarious acts.
At Alliance, we take the necessary measures to ensure that scammers and bad actors aren't using our services.
---
Read more: Scammers Hate Us: Only Legitimate Businesses Use Our Virtual Offices
---
Your Instant Offices' login may allow you to find short-term leases for your hybrid needs, but are you protected from scammers?
If you're using a lower-quality virtual office and sharing an address with other businesses, you're in a position where you're relying on the other businesses in your vicinity to act the right way.
If a business that shares your address is outed for scamming or other fraudulent practices, all the businesses at that address will suffer. Google searches and other reviews will quickly mention the company's poor practices, meaning anytime someone searches for your address, they're confronted with information about a scam business instead of information about your company.
Workspaces and meeting rooms
We offer on-demand coworking spaces and meeting rooms in every location. Regardless of where your Virtual Office is, you have access to meeting rooms and coworking spaces you can use whenever necessary.
Considering that 12% of job listings mention remote work, a percentage that's quickly growing, anything you can do to provide your employees with remote and hybrid opportunities will pay dividends over time.
1000+ locations
We have over 1000 locations across the U.S.
In every state and almost every city, there's a Virtual Office ready for you to use. Other providers want you to relocate to use their services, or even worse, want you to pay for software that can be used anywhere.
At Alliance, you can start your business in any state you want.
Cost-efficient plans
Alliance's plans start at $49 per month, making Alliance far more affordable than a traditional rental while also giving you the freedom to work from anywhere.
Not to mention, Alliance's plans start at an easy-to-manage 6-month minimum. Alliance Virtual Offices provides a secure and safe business address that solidifies your business's reputation.
Clearly defined network
All our locations are within our network, meaning there is a clear and standardized procedure, and managing your plan is easy.
Instant Offices act as a middleman, and lacking a defined network costs you extra money in the long run. In contrast, Alliance's network saves you money over time, offering countless networking opportunities when using our coworking spaces or meeting rooms.
Alliance's Virtual Offices are much different from the middleman services that Instant Offices provides, but which is right for your business?
Which is right for you?
The best choice is Alliance Virtual Offices.
First, we offer clear pricing and provide access to all the same services as Instant Offices. Where Instant Offices acts as a middleman, we act as a provider.
We also make it easier for you to establish your business by offering nothing but the most prestigious locations with exceptional customer service.
Our customer service is unparalleled.
Not only are our Virtual Office Centers staffed with friendly and professional, on-site employees who can answer any questions and solve any amenity issues you may come across, but we also have off-site staff prepared to help with any other issues.
We offer phone and email support so our partners can call if they have any problems, and if they don't feel like talking on the phone, our email support works perfectly too.
Next, our standardized pricing and procedures bring more stability to your business while maintaining all the flexibility you'd get from Instant Offices.
Because we have our own network of centers, you'll almost certainly end up paying less with us.
Finally, we make it easy to add services as you need so you can grow your business with ease.
Customization is key for modern businesses. The better you can react to the shifts in the market, the better prepared you'll be for economic downturns and unexpected events.
Instant Offices boasts flexibility, but you want your office to be flexible on your terms, not someone else's.
Alliance Virtual Offices provides this flexibility. Your plans are a set length, and you don't have to worry about needing to find a new space at the drop of a hat.
With Alliance, you can use your Virtual Office as your company's centralized hub while focusing on operational tasks or other duties remotely.
Additionally, our Virtual Offices make integrating other digital tools and services easy, and any issues you encounter can be brought to our helpful support staff.
Alliance is the right choice because our network is designed to help all our partners succeed. The more our partners succeed, the more we succeed too.
The best Virtual Office from Alliance
Instant Offices is essentially a middleman service.
Alliance Virtual Offices is the better choice because we have our own network and a standardized procedure, helping you make the most of your flexible workstyle.
The sheer amount of competition means that modern business owners and entrepreneurs have to deal with incessant advertisements claiming that their services are the best.
It's important to research and review these claims because, for many of our competitors, these are nothing more than just that: claims.
Fortunately, we have the ratings to prove it.
With well over 1000 Trustpilot reviews, Alliance Virtual Offices retains a 4.4 out of 5-star rating.
We do everything in our power to help our partners succeed.
Don't use a middleman to secure your business's future. Instead, utilize one of our professional and well-known Virtual Offices to help your business scale as efficiently as possible.
---
Further reading
---
Alliance Virtual Offices provides Virtual Office services and a suite of other digital products or tools designed to help established entrepreneurs, new business owners, and everyone in between, succeed.
Instant Offices is a middleman service that may be good for short-term workspaces but will do you no favors when trying to scale effectively.
As a business owner, you should focus on getting the best value for the money spent. Some individuals think you should focus on saving as much money in every interaction as possible, but successful business owners know this isn't the case.
Rather than trying to get the most out of every individual interaction, you need to focus on getting the most for every dollar you spend.
Is it a good deal if you save $50 now but are on the hook for thousands later?
Alternatively, if you spend an extra $50 today but save an exorbitant amount of capital in the long term, is that a bad deal?
If you answered "no" to both questions, you're heading in the right direction.
Contact us today to see how Alliance can help you set your business up for long-term success, and be sure to check out our Virtual Office Blog for more information!
---