The COVID-19 outbreak has forced many companies to implement remote work policies as governments across the world urge people to stay home and call for businesses to close their offices.
For organizations and employees alike, making the transition to remote work with such little notice can be stressful and challenging. Below you will find some best practices for organizations that can make the transition smoother for those involved.
---
1. Have the right technological tools in place
Before organizations send employees home, it's important that they check that employees have access to the necessary tools and resources to work from home. Do staff have access to a laptop, internet, electricity at home? What about different collaboration tools that will facilitate teamwork and connectivity? 
---
2. Foster connections
It's important to create communication channels that will enable employees and managers to stay connected with each other. It's important that organizations have access to platforms that can facilitate this, like Zoom, Skype for Business, and Google Hangouts.
Below are some useful pro tips:
Consider hosting regular check-in meetings where people connect via audio and video to see how everyone is doing, what they are working on, and whether they need help or support with anything.
Consider setting up a communication channel that is informal. Such channels can be used to send memes, gifs, or updates on how everyone is doing in a casual, informal setting.
Kick-off remote meetings with remote team building activities to keep morale up and make meetings more productive. Here are 42 remote team building activities that can be easily carried out.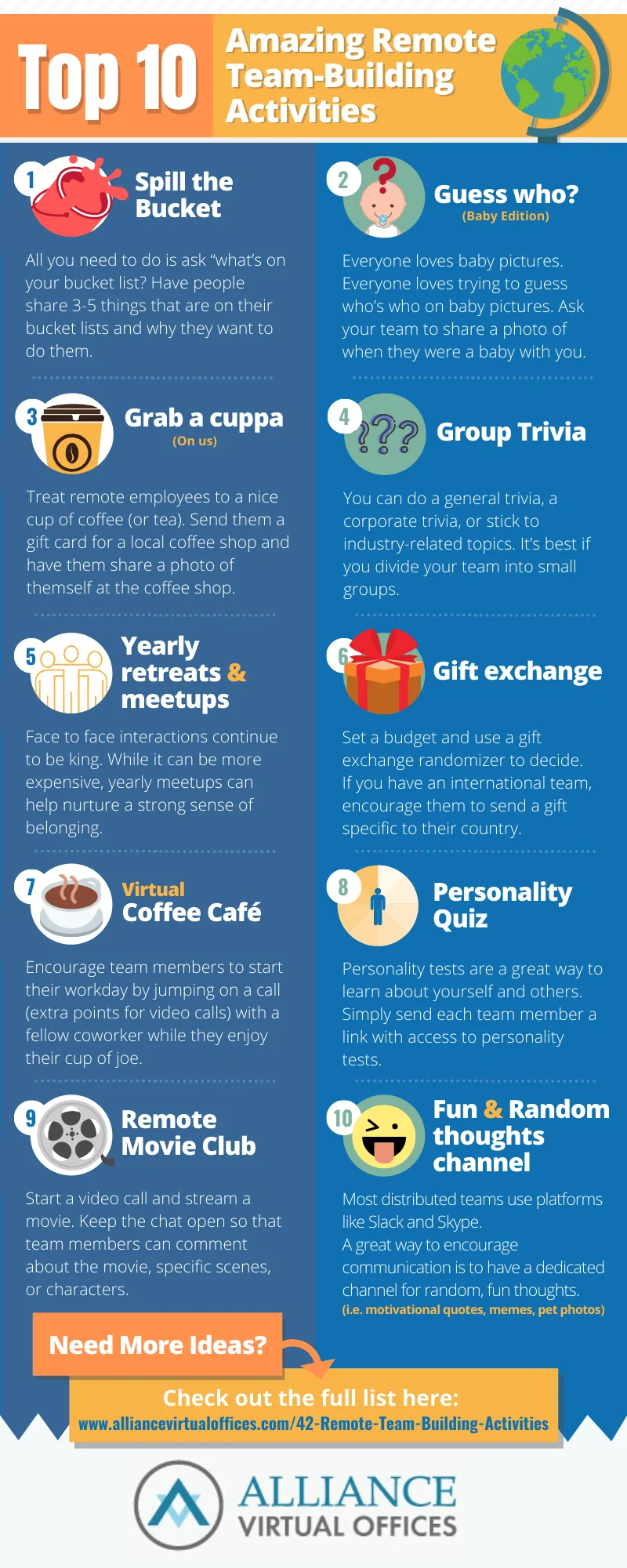 ---
3. Embrace flexibility
Allowing workers to work remotely requires that organizations be flexible in terms of schedule, particularly in situations like the COVID-19 outbreak, as many schools close and children stay home. Unless it's indispensable for business purposes that a person be working at a set schedule, consider allowing employees to work at times that best work for them, whether earlier in the morning or later at night.
---
4. Set clear guidelines and expectations
What are employees expected to do while working remotely? Are there any policies on email, communications, or security? For example, if employees handle sensitive information, you might want to provide them with tokens or a VPN service that they need to use at all times when working from home and be protected from work-at-home scams.
---
5. Provide feedback regularly
This applies to both positive and negative feedback; when teams work remotely it's important for employees to know what they are doing well and what they need to improve on. Take this opportunity as well to allow employees to provide managers with feedback. Consider hosting 1 on 1 meetings with team members at least once a week.
---
6. Check up on stress levels
Situations like the one we are experiencing today can increase stress and anxiety. It's important for managers to check up on employees and provide them with any necessary resources. Also, even though they can work from home, remind them that they can take paid sick leave if they need a mental health day to themselves or are generally not feeling well.
---
7. Consider adjusting individual goals
This is particularly important for employees that had to meet goals relating to sales or customer service. With the current situation, many organizations have seen decreased activity from clients and consumers, so adjusting goals might be necessary. For example, rather than getting 10 new customers for a service or product, a more realistic goal would be to improve and maintain relationships with existing ones.
---
8. Consider setting up a mail forwarding service
If you regularly receive important business mail in the office and it will be closed, consider hiring a mail forwarding service to ensure that you're not missing any important mail or notices. Many mail forwarding services also offer a digital mail option, which enables them to open, scan, shred, and forward any mail.
---
Best Practices for Employees
Below are some tips that can help employees stay on top of their work and ensure that they remain productive amidst the uncertainty of the situation and the many distractions that exist at home.
Try to maintain a regular schedule. And most importantly, know when it's time to turn off and disconnect from work.
Shower and get dressed as if you were going into the office. Trust us, tempting as it may be to stay in PJs or lounging clothes, they won't help you get in the right mindset to work.
Take regular breaks, just as you do in the office.
If you have kids that are staying home, consider having a sort of system so that they know when they can interrupt you and when they shouldn't.
Set up a home office, even if it's just a corner in the living room with a desk and chair. This will make it easier to stay focused and will prevent you from bringing work into bed with you.
If you're healthy and there's a local coworking space easily available, consider visiting it when you have high-focus tasks or a meeting. Bear in mind that many coworking spaces are keeping their doors open to help remote workers and many have implemented special processes and protocols to deal with the COVID-19 pandemic.
Over-communicate with team members and on this note, embrace emojis and gifs. When people are working remotely, messages can get easily lost and the tone of messages can be misunderstood.
Embrace video. We know it can be awkward and weird at first, but using video when meeting online with others can go a long way in keeping morale up and getting everyone to be more engaged.
Be patient with yourself. If you're used to working in an office setting, getting used to working from home will take some time, so be patient with yourself and with your coworkers.
Know when to tackle focus work. If your kids are home and they wake up later than you, consider tackling focus work early in the morning and tackling emails and other smaller tasks once they're up and about in the house.
Make sure you have some good quality, soundproof headsets. Trust us, you will need these, especially if there are more people at home.
Avoid, at all costs, mixing house taks with work. It can be tempting to throw that clothes load into the washer, but try to do that while you're not working, otherwise you will constantly find yourself distracted by housework.