So you've signed up to one of our call answering or virtual office services. Welcome aboard! Hopefully by now you've begun to familiarize yourself with the system and you're already enjoying your new virtual office or one of our call answering services for small businesses.
If you're just getting started, it's certainly worth logging in to the Alliance Virtual Office admin system to have a look around. This is where all of your account information is stored along with invoices, your business details, information on your chosen package, and more.
Here's how to access your account information:
From the Alliance Virtual Offices homepage, click on the 'Account Login' link at the top-right of the page. You might as well bookmark the URL while you're at it: www.alliancevirtualoffices.com/login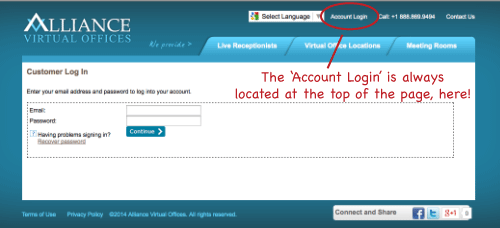 Log-in using the email address and password that you used when signing up. If you can't remember your log-in details, first go back to your email inbox – we sent you an email with this information which should be headed: "Alliance Virtual Offices ORDER DETAILS". Failing that, click on the 'Recover password' link.
You will now land on the main admin area of Alliance Virtual Offices.
Here's what you should expect to see:
Account Information: Your name, business name and address;
Main Admin Area: Upcoming invoices with a PDF download;
Important Dates: This will include a link to our Terms & Conditions, the date you signed up, your term length and renewal details.
Select an Option: Listed here are the services you selected with Alliance Virtual Offices along with options to 'Update Account' and 'Log Out'.
We recommend that you check your account details on this page, and also click on your package details, such as 'My Virtual Phone' or 'My Live Answering', to check that all of your details and services are correct.
How to Change Your Personal Details
In the main admin area, click on the 'Update Account' link in the list headed 'Select an Option', bottom left of your screen.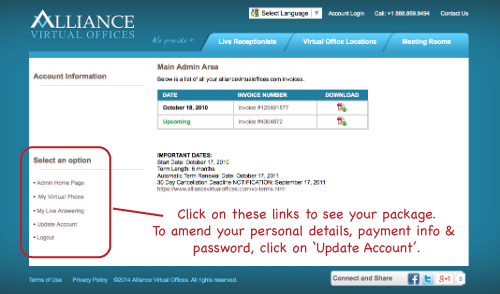 Here you can amend any important information, including:
Your name and company name;
Address and phone number;
Payment information;
Password – you can change it to something more memorable, but don't make it too easy! It's worth including a combination of letters and numbers.
Once you've made any changes simply click the 'Submit' button and your changes will be saved.
If you have any questions about your services or if you experience problems using the system, feel free to contact us at any time!