---
---
Q: What is business reply mail? How can my small business benefit from using it?
A: Business reply mail is a service provided by USPS that allows your business to provide the recipients of your mail with a prepaid and simple way to respond. Using this service is an easy way to help your business stand out from the increased competition in digital marketing.
---
The recent digital boom has shown business owners and consumers alike that ecommerce and other forms of virtual business are nothing to be ignored.
Digital marketing makes targeting niche demographics easier than ever; Virtual Offices have streamlined expansion and breaking into new markets. A slew of virtual tools have been created that can automate your business's bookkeeping, payroll, and more.
With all of these advancements, surely there's no reason to use traditional, physical advertisements like business reply mail? Right?
Wrong.
While these virtual advancements are great and make expansion and targeting niche audiences easy, there is still a very important place in the modern market for traditional mail marketing.
In reality, business reply mail allows you to create a memorable experience for your customers and target wide demographics. According to 59% of survey respondents, adding business reply mail to their multi-pronged marketing approach resulted in an increased ROI.
Most people spend an excessive amount of time online each day. As technology advances, we'll continue seeing more businesses turn to digital advertisements, targeted ads, and other forms of virtual marketing.
In the meantime, taking advantage of traditional marketing avenues is a great way to make your business stand out.
Countless businesses scramble to create the most colorful, eye-catching social media ads imaginable, and in the process, they compete with thousands of other businesses, fighting for the same spot.
This isn't to say that virtual marketing isn't worth it, because it is. However, adding business reply mail to your company's marketing repertoire allows you to give customers a more recognizable, physical reminder of your business.
Today, we'll be explaining what business reply mail is, how you can set up business reply mail for your business, a business reply mail template, some alternatives to business reply mail, and how your small business mail can be used in conjunction with other modern tools.
So, if you've ever spent time searching for "business reply mail: how to send," don't worry; we've got you covered.
---
---

What is business reply mail?
Before we dig into the business reply mail cost and other specifics, we need to explain what business reply mail is.
Business reply mail is a service provided by USPS that allows businesses to send prepaid envelopes along with their shipments, giving the recipients an easy and prepaid way to respond.
Ultimately, business reply mail makes it easier for customers to reply or send items back to your business. You are removing an obstacle for them and making it easier for them to have their needs met.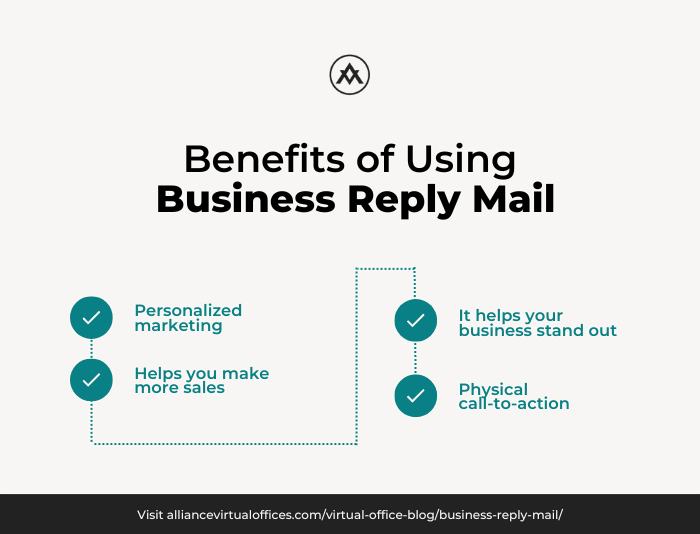 Let's take a closer look at some of the benefits associated with using business reply mail, keep reading for more!
Personalized marketing
Helps you make more sales
Helps your business stand out
Physical call-to-action
Personalized marketing allows you to connect with customers
With email or virtual ads, you can't physically connect with potential customers.
With business reply mail, you can personalize messages, complete with signatures, funny anecdotes, or other methods of building a connection with your customers.
Consumers love a business they feel aligned with, even if you're just sending out a survey or information-gathering mailer. Your customers will appreciate the interaction and should have no problem responding, especially when replying to business reply mail. No postage necessary!
Helps increase sales
Outside of helping you better connect with customers, business reply mail can help you to make more sales. If customers know they won't have to pay for a return, they're far more likely to make a purchase.
If you're selling physical products, offering free returns might be the final push potential consumers need before making a purchase.
Preferably, most customers won't use the return service, but allowing your customers to make business returns is typically enough.
Helps your business stand out
Digital marketing is great, but competition is fierce.
Using business reply mail in conjunction with other marketing avenues allows your business to stand out and makes your other advertisements more effective.
Think about it this way, American marketing emails have an open rate and a click-through rate of 23% and 3.86%, respectively.
With the sheer number of marketing emails and other online advertisements consumers see, there's no telling how many different companies you're competing with within a given day.
According to Forrester Research, 2021 saw a 40% increase in marketing message volume. You'll need to go the extra mile to compete with this exponential increase.
Business reply mail allows your company to make an impression outside of the virtual world so that any virtual advertisements or marketing emails will immediately be met with recognition.
Physical call-to-action
In addition to helping your business stand out, business reply mail provides customers with a physical call-to-action that can be much more persuasive than standard online CTAs.
A physical call-to-action might be something as small as asking your customers to fill out surveys to help you gather information, but these CTAs can also ask more. Keep reading for some examples!
Signing up for a newsletter
Purchasing a physical product
Downloading relevant apps
Interacting with social media posts
Doing "tasks" for a discount
Signing up for a newsletter
One method of increasing your brand recognition is through a newsletter.
This newsletter could be anything from updates about the market your business is in, to detailed stories about what has led you to your profession – it doesn't matter.
All that matters is that you're building a rapport with customers and, in doing so, strengthening your brand.
---
Read more: Small Business Blog: Finding and Creating Good Content
---
With your business reply mail, you could include an easy-to-scan QR code that helps even the most technologically illiterate consumers subscribe to your newsletter and return the mailer with confirmation.
Feel free to toss in a promotional perk for the customers who sign up!
Purchasing a physical product
A classic call-to-action would be sending a catalog of physical products with a special promotional price, allowing customers to make mail-in orders without paying the postage cost.
While this method has fallen slightly out of style with the introduction of fast, next-day convenience of online shopping, the right deal and the right products will still speak to your customers.
This method is best used when your business has created a following. Once you've established yourself, offering products that aren't sold online or other similar deals that are only available through the mailer is a great way to increase your ROI.
Downloading relevant apps
If your business has an application you've pushed to the respective app stores, you'll want people to download it.
Whether the application includes a subscription model or another form of increasing revenue, the first step to onboarding customers is to have them download the app.
Using business reply mail to give your consumers an easy and streamlined way to download the app is a great way to onboard users.
Similar to all physical CTAs, offering a promotional perk upon the return of the mailer is a great way to incentivize consumers.
Interacting with social media posts
This one is a bit wackier, but if your business is growing a social media presence, it's best to not use obvious bots and pay-to-play methods to foster engagement. Using business reply mail to ask consumers to interact with your posts is a lighthearted way to grow your brand's presence and gain a following.
Americans spend an inordinate amount of time on social media. Your reach grows exponentially if your brand has a large, organic, and engaging base of followers on whatever platform you're using to connect with your target audience.
The bigger your audience is on social media, the more potential customers you can easily connect with.
Doing "tasks" for a discount
Similar to using small business mail to increase your social media posts' engagement, you can also ask consumers to do small, manageable, typically online tasks with your CTAs.
These could be as simple as following your brand's account on various sites, leaving a comment on a particular video or post, sharing content, referencing your brand in a post, or creating content geared to your brand.
Sometimes, the action you'd like the consumer to take can be digital and could be sent with products the consumer has already purchased. This way, your customer has a free way to return a product, but in the same package, they get a physical call-to-action.
As you can see, your business is only limited by your imagination when it comes to business reply mail.
---

How to set up business reply mail
Business reply mail doesn't have to be paid for before use.
Instead, the postage is linked to your account, similar to having credit at a store you frequent and allowing another person to make purchases.
Your account is charged if the customer decides to use the return mail. If not, there is no charge for including the postage.
Setting up your business reply mail is reasonably straightforward, so we've created an actionable guide below to help you get started!
Apply for business reply mail permit number
Pay the annual permit fee
Add the QR code for your BRM to outbound mail
Apply for business reply mail permit number
Before you can use the business reply mail service provided by USPS, you'll need to fill out a PS Form 3615.
On the form, you'll provide basic information about your business, including your business reply mail return address, a contact person, phone number, etc.
Technically, you'll need to pay the annual fee as you file for your business reply mail permit number.
Pay the annual permit fee
As you'll realize when you're filling your PS Form 3615 out, there are several different kinds of return services. That said, the annual fee is typically around $275.00.
However, if you send a large number of high-volume, bulk-weight returns, the annual fees can be as high as $825.00.
Regardless of the fee you're responsible for, it's important to understand how your account will be credited when your customers utilize the return service.
Fortunately, you have three different options for paying for the returned mailers.
First, you can pay as you go, paying the post office when the parcels are received and before they're handed over.
Second, you can create an advance deposit trust account, which is essentially a prepaid account that deducts money before your mail arrives. With this account, USPS automatically charges your account for all of the mail that you receive.
Last, you can create a business reply mail advance deposit account, which is only slightly different from the trust. Rather than being charged all at once for all the mail you receive, this account allows you to separate your business reply mail and other postage charges.
Add the QR code for the BRM to outbound mail
The final step is simply adding a QR code for your business reply mail to your outgoing mail.
Once you've done this, your recipients can scan the QR code and print the return postage. Also, you can select the type of service that the BRM code provides.
After adding the code, you can use the payment methods mentioned above to handle the quarterly payments for all the return mail postage used on your account.
Remember, your business return mail must include your business's legally registered address.
This means that all your potential customers, everyone who receives your mail, can easily look up your business's location.
---

What are some alternatives to business reply mail?
As you can see, there are some interesting, innovative uses and clear benefits of business reply mail.
That said, business reply mail isn't suitable for all businesses.
If you don't want to use business reply mail but want to market via mail, there are a few alternate options to make it easy for your recipients to contact you.
Below, we've documented some frustrations associated with business reply mail and some alternative options you can employ.
Provide company email address on outbound mail
Business reply mail can be costly
Providing social media handles
Don't pay for return shipping
Slower data collection
Handle business returns and other return postage on an as-needed basis
Provide company email address on outbound mail
One simple alternative is to provide a company email address on your outbound mail.
This way, you're allowing the recipients to reach out via email for free, almost providing the same service as business reply mail.
However, this might be less effective. If you're already communicating with your customer by mail, there's a strong chance the recipient prefers that communication medium.
Similarly, this won't work for return postage.
Business reply mail can get costly
Because you're essentially paying for each customer that returns your business reply mail, the process can get pretty expensive quickly.
As your business and audience grow, you'll send out larger numbers of business reply mail to connect with these individuals. This is why it's important to only utilize business reply mail when you feel confident in some kind of response from the consumer.
Knowing how difficult it can be to get good addresses for potential customers, casting a wide net is typically not the wisest decision. A wide net and unusable addresses are the definitions of throwing money away.
Provide your business's social media handles
This approach deals with similar issues as simply providing a company email address.
Adding your social media handles is wise; the more followers you retain and regularly engage with the better. But unless you're actively incentivizing your customers, there's a great chance they'll pay no mind to the mail.
Don't pay for return shipping
You're also able to allow the recipient of the mailer to pay for business returns and other postage.
That said, this seriously discourages a response, and without an easy way to return products, it can also prove to be a tough barrier to entry for potential customers.
Not paying for return shipping is risky. Without the ability to process business returns, you're relying exclusively on consumers' interest.
Slower data collection
Digital marketing and other methods of virtual advertisements allow you to gather data almost immediately as you begin running your ads.
This quick information and the editable nature of virtual mail make it easy for you to pivot if certain aspects of your marketing aren't as effective as you'd hoped.
With business reply mail, however, you don't have that option.
Not only is data collection slower and less effective with business reply mail, but you're physically incapable of changing your mail once you've sent it.
This means you have to wait until after your round of business reply mail is over to know how it did. It also means that if you make a mistake or leave out a vital piece of information, you're simply out of luck.
Handle business returns and other return postage on an as-needed basis
Finally, you can handle return postage on an as-needed basis by providing alternate forms of contact and then processing a new postage order when customers reach out.
That said, this method is typically even more expensive than standard business reply mail and incredibly tedious.
Despite the few frustrations of business reply mail, it remains vital in modern marketing. Some modern virtual solutions go hand in hand with business reply mail.
---

Business reply mail in the modern working world
Business reply mail is an effective, efficient service that allows your recipients to respond to your mail at no cost to them.
While alternatives exist, they're often more cumbersome and less effective.
Providing business reply mail along with a professional business address will help you build credibility and make more sales.
Business reply mail and Virtual Offices
Because business reply mail requires your business's registered address, you aren't going to want to use your home address.
Not only will you be completely inundated at home with personal and business mail, but your customer will also be able to easily see that your business's address is just a house.
In addition to avoiding using your home address to register your business, you probably won't want to use unknown virtual addresses or share their address with big-box stores.
Instead, you should use a Virtual Office to register your business so that your reply mail includes a legitimate, recognizable address.
Alliance's Virtual Offices are a cost-efficient alternative to traditional office space. We have offices available in every state (and in most major cities), and all of our addresses are professional and well-known, bolstering your company's legitimacy.
Not to mention, each of our Virtual Offices is fully backed by physical space. You get all the benefits of a traditional office space without the expensive lease and monthly utilities.
Your business reply mail includes your business address, and with the continued rise of consumer-targeted scams and scam businesses, searching for a company's address is simply good practice.
Through one of Alliance's Virtual Offices, you can put your brand's best foot forward – increasing your legitimacy in the eyes of your customers, potential investors, and other entrepreneurs.
---
Further reading:
---
Alliance Virtual Offices provides many digital tools for established entrepreneurs, digital business owners, and any business owner hoping to scale their operations effectively.
Our Virtual Offices offer a cost-efficient way to integrate modern solutions with an address you can be proud of.
Whether it's business reply mail or totally-virtual marketing, we've got tools that can help you integrate these solutions as your business expands.
Don't wait; contact us today to see how Alliance Virtual Offices can help your business make the most of all the modern labor market can offer!