---
---
Q: Do I need a credit history to secure loans or lines of credit for my business? How can I secure business funding with no credit check?
A: To effectively secure loans or lines of credit for your business, a robust credit profile will help you get attractive rates, low-interest payments, and an overall better deal. That said, several platforms provide entrepreneurs with an easy way to get business funding without a credit check.
---
Starting a business was once a massive risk that only particular individuals could attempt.
Entrepreneurs had to find a perfect location that was well-priced and in a spot that consumers would feel drawn to. After finding a site, these entrepreneurs had to spend a sizable amount on security deposits, first and last month's rent, monthly utility payments, general upkeep, and other recurring monthly costs.
Then, after these entrepreneurs started spending money, they had no real recourse if their businesses didn't go as planned.
If the location wasn't working or the rent payments were just too high, the new business owners found themselves in a predicament that required securing more capital or filing for bankruptcy and admitting defeat.
Now, business owners have it much easier.
Yes, starting a business is still a risk. Still, with tools like Virtual Offices and the explosion of ecommerce businesses, entrepreneurs don't have to risk as much starting capital to try and make their dreams a reality.
Despite the lower risk, new business owners aren't in a position where they can rest on their laurels because of the reduced barrier to entry.
Contrary to popular belief, 99% of all small businesses do not fail. Conversely, the United States Chamber of Commerce claims that 18% of small businesses fail within the first year, 50% fail after the first five years, and a whopping 65% yield by their tenth year in operation.
To avoid failure, businesses need funding. Unfortunately, not all companies have the credit history to land attractive rates for their loans or lines of credit.
Today, we'll be exploring business funding with bad credit and how a new entrepreneur may be able to secure business funding, no credit check required.
We'll explore how simply checking your credit harms your business, business funding options that don't require a credit check, how to set your company up for funding approval, and finally, how to use an Alliance Virtual Office to secure US business funding without needing a credit check.
So, if your credit history is lacking and you've searched for things like business grants, no credit check, or business finance, no credit check, you're in the right place.
---
---
How credit checks hurt your business
Credit checks aren't guaranteed to harm your business. Still, in many cases, the information you receive from running a credit check will result in less favorable conditions for your loan or line of credit.
---
Read more: Small Business Loan vs. Line of Credit: A Guide
---
Below, we've compiled a list of some ways a credit check may hurt your business. Then, we'll explore securing start-up loans with no credit check.
Limited access to funding
Higher interest rates
Difficulty in securing partnerships
Limited growth opportunities
Negative impact on business reputation
Limited access to funding
Many traditional lenders and financial institutions rely heavily on credit checks to evaluate a business's creditworthiness.
If your credit history is less than stellar, it may severely limit your access to business loans, lines of credit, and other forms of funding.
This can hinder your ability to invest in growth opportunities, purchase necessary equipment, or manage cash flow effectively.
For newer businesses, this is particularly frustrating. As a new company, you may not have the credit history required to get approval for covid business loans or other lines of credit, and getting credit checks too often, especially before you've built a solid credit history, can quickly become a detriment to your company.
Just like for personal credit, business credit inquiries stay on your credit report.
That said, business credit checks only damage your credit report for the first year, but the inquiries themselves are visible for up to two years.
This is also why you should keep track of your business's credit so that you aren't making unneeded inquiries and further damaging your credit.
If you're able to keep up with your business's payments and other operational duties, you'll be able to retain a relatively decent idea of what's affecting your business credit and what isn't.
Higher interest rates
If your credit check reveals a poor credit score or a history of late payments or defaults, lenders may view your business as high-risk. As a result, they may offer you loans or financing options with higher interest rates and less favorable terms.
This can significantly increase your borrowing costs, making it harder to generate profits and reinvest in your business.
Business funding with no credit check may require more research and may require you to deal with more lenders, but this allows you to find an interest rate beforehand without needing a credit inquiry first.
Quick business loans with no credit checks, in the UK, the US, or otherwise, typically offer you a set rate that won't be as attractive as other loans but may be better than making several inquiries that will be on your credit for years.
---
Read more: How to Build Business Credit: Building Credit for Your Small Business
---
Difficulty in securing partnerships
Credit checks are not limited to lenders; potential business partners, suppliers, and vendors may also conduct credit assessments before entering into agreements with your company.
If your credit history is tarnished, it can erode trust and confidence in your business. Suppliers may require upfront payments, stricter payment terms, or refuse to extend credit, which can disrupt your supply chain and impact your ability to deliver products or services to customers.
As your business continues to grow, your partnerships and the companies you're affiliated with will be a big part of your future scalability.
Limited growth opportunities
Business expansion often requires additional capital injections. However, if your credit check reveals financial instability or poor creditworthiness, investors or venture capitalists may hesitate to provide the necessary funding.
This can curtail your growth plans and prevent you from seizing market opportunities, launching new products, or expanding into new territories.
By finding business funding without a credit check, you can focus on growing your business and building your credit history so that future inquiries won't have as negative an effect on your business credit history.
Although other businesses won't have direct access to your credit history, the lack of funding itself is what may prevent other firms from dealing with your business.
Negative impact on business reputation
A poor credit check can reflect negatively on your business's reputation and credibility. Potential customers or clients may question your financial stability and reliability, affecting their willingness to engage in business with you.
This can lead to lost sales, difficulty attracting new customers, and damage your overall brand image.
Even though other companies can't directly access your credit history, they'll still be able to know when you haven't been able to access funding solely by using context clues and keeping an eye on your business.
Fortunately, there are several ways to get business funding with no credit check that will allow your company to continue scaling without requiring you to find a traditional lender.
Business funding options with no credit check
So, if credit check inquiries may hurt your business's credit, what options do you have to find business funding?
You can take out microloans and other smaller amounts from nontraditional lenders and use those to build your business credit, but this is slow-going and may not be the best way to secure business funding with no credit check.
---
Read more: Strategic Debt: How to Leverage Small Business Microloans
---
Here is a list of some of the best business funding options that don't require a credit check.
Merchant cash advances
Crowdfunding
Revenue-based financing
Equipment financing
Invoice financing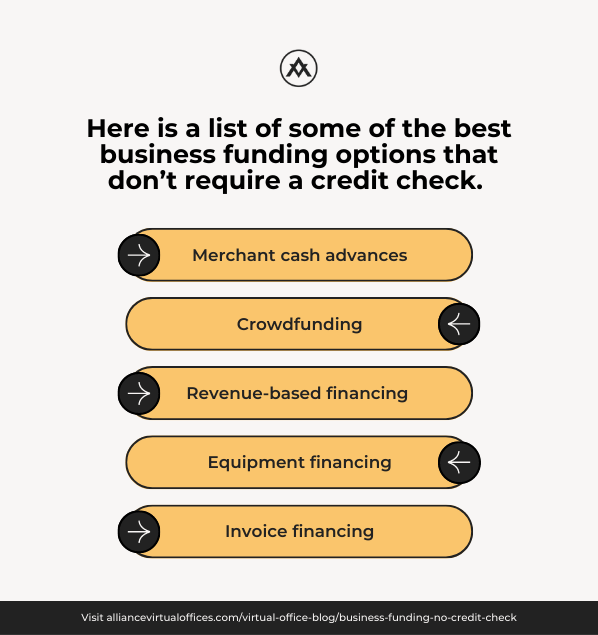 Merchant cash advances
A merchant cash advance is a financing option where a lender provides a lump sum payment in exchange for a percentage of your future credit card sales or receivables.
Since repayment is tied to your business's revenue, credit checks are not required, making it an accessible funding option for businesses with poor credit.
With this kind of business funding, you keep inquiries off your long-term credit history while securing the funding you need to continue growing.
For a merchant cash advance, you may not be dealing with a traditional bank or lender, so it's important to do your due diligence to ensure that you aren't receiving money from a predatory lender or a business that will hit you with endless loan fees and other unmentioned payments.
Crowdfunding
Crowdfunding platforms allow businesses to raise funds by collecting small contributions from a large number of individuals.
Unlike traditional lenders, these platforms generally do not perform credit checks.
Instead, they focus on the viability and appeal of your business idea or project, making it an inclusive funding avenue for entrepreneurs.
If you have a proprietary idea or an emotionally charged business mission, crowdfunding is a great alternative to traditional business funding without a credit check.
Most of these websites have a built-in audience that's very different from your target audience. This exposes your company to individuals who may not have seen your brand otherwise.
Outside of the audience and the negation of credit checks, crowdfunding serves several other purposes too.
First, a successful crowdfunding campaign is effectively a proof of concept for your business idea.
If you haven't launched yet, a crowdfunding campaign allows you to pre-sell your products or services. This results in your business generating revenue before it's even launched.
Not to mention, this allows you to gather feedback and insights from your backers, which helps you refine your offerings and your marketing strategy.
This approach also helps you to create a community for your brand. The supporters who are emotionally invested in your success via crowdfunding can become brand ambassadors, which helps you to spread the word about your business.
Crowdfunding also keeps you from creating debt or equity obligations that may later come back to haunt you. The backers are usually rewarded with early access to your offerings or other rewards rather than receiving a portion of your company.
Finally, crowdfunding allows you to be flexible with your funding goals. This means you get to keep the money you've raised even if you fall short of your original goal.
As you can see, there are plenty of reasons to consider crowdfunding as an alternative to business funding without a credit check.
Revenue-based financing
Revenue-based financing is a loan arrangement where repayment is based on a percentage of your business's future revenue.
Rather than relying solely on credit checks, lenders consider your revenue-generating potential.
This option provides flexibility and can be particularly beneficial for businesses with fluctuating or seasonal revenue streams.
Again, for these styles of financing that defer to your business's operational capabilities rather than its credit history, you need to be sure that you're dealing with a legitimate lender and not bad actors who only want to charge you as often as possible.
Equipment financing
Equipment financing involves obtaining a loan or lease specifically for purchasing equipment needed for your business operations.
Since the equipment itself serves as collateral, lenders may be willing to extend financing without conducting credit checks.
This enables businesses to acquire essential equipment while building credit through timely payments.
Granted, this option is best reserved for businesses that are new and still lacking pieces of equipment, but even older companies can utilize equipment financing if they have operational processes that new equipment would save time and effort.
Invoice financing
Invoice financing, also known as accounts receivable financing, allows businesses to obtain funds by leveraging their outstanding invoices.
Lenders provide a cash advance based on the value of the invoices, and repayment is made once the customers settle their invoices.
Since the focus is on the creditworthiness of your customers rather than your business's credit history, credit checks may not be necessary.
In some cases, the lender you're dealing with for invoice financing will be the company who ensures that customers pay their debts. This will free up your time and resources and allows you to focus on core activities like sales and operations.
Additionally, invoice financing uses the value of the invoices to determine the loan amount, so as your company grows, you'll continuously have access to larger sums of capital as you make more sales.
How to set up your business for funding approval
So, now that you're familiar with alternatives that allow you to raise business funding with no credit check, let's explore how you can set your business up for funding approval so you don't have to worry about these alternatives.
The first step is securing a Virtual Office. With a high-quality Virtual Office, you're given access to a well-known and professional business address that you can use to show potential lenders that you're serious about your business.
---
Read more: Why You Need a Commercial Address to Build Business Credit
---
More on Virtual Offices shortly, but to properly leverage a Virtual Office to help you secure funding approval, you need to be familiar with the technology.
Below, we've listed some other options for helping your business find funding approval.
Build a strong business plan
Showcase positive cash flow
Provide collateral or guarantees
Seek alternate lenders
Leverage Virtual Office solutions
Build a strong business plan
Develop a comprehensive business plan highlighting your company's mission, vision, market analysis, competitive advantage, and financial projections.
A well-crafted business plan demonstrates your commitment, preparedness, and potential for success, making it more attractive to lenders who may not rely heavily on credit checks.
Additionally, building a strong business plan is good for your brand as well! The more scenarios you've planned for and the more thought you've put into your company's future, the better your business will perform.
The stronger the business plan and the more attention to detail you've put into creating this plan, the better off you'll be.
Showcase positive cash flow
Emphasize your business's ability to generate consistent and positive cash flow.
Demonstrating a history of strong revenue and profitability can help lenders see the potential for repayment, even without relying on credit checks. Prepare accurate statements, including income statements, cash flow statements, and balance sheets, to support your claims.
With a high enough positive cash flow, you may never have to provide a business credit check again. At the end of the day, all lenders want to know is whether you'll be able to repay them.
If your business is making a substantial amount of money and has regular revenue coming in, it'll be markedly easier to secure business funding without a credit check.
Provide collateral or guarantees
Offering collateral or personal guarantees can provide lenders with additional security, reducing their reliance on credit checks.
Assets like real estate, equipment, or inventory can be used as collateral to secure funding.
Personal guarantees, where you assume responsibility for repayment, can also help alleviate concerns about creditworthiness.
That said, you should try to avoid using a personal guarantee whenever possible.
Once you've personally guaranteed a loan's repayment, your credit is now on the line.
Typically, business owners are only risking their business credit when they borrow money or create lines of credit, but with a personal guarantee, you're muddying the waters.
Seek alternate lenders
Explore funding options beyond traditional banks and financial institutions. Alternative lenders, including online lenders, peer-to-peer lending platforms, and community development financial institutions (CDFIs), often have more flexible lending criteria and may not require credit checks.
Research and identify reputable lenders who specialize in providing funding to businesses with limited or no credit history.
Leverage Virtual Office solutions
Utilize resources like Alliance Virtual Offices to enhance your business's professional image and credibility. A Virtual Office provides you with a prestigious business address, mail-handling services, and access to meeting rooms and coworking spaces when needed.
This can boost your credibility when applying for funding and instill confidence in lenders, potentially reducing their reliance on credit checks.
Using Alliance's Virtual Offices for business funding, with no credit check required
Setting your business up for success in finding funding without credit checks involves building a strong business plan, showcasing positive cash flow, providing collateral or guarantees, seeking alternate lenders, and leveraging resources like Alliance Virtual Offices for a professional image.
By emphasizing your business's potential for success, financial stability, and exploring nontraditional funding options, you can increase your chances of securing the required capital.
With careful planning, preparation, and a strategic approach, you can overcome credit-related barriers and access the funding your company needs to thrive.
---
Further reading
---
Alliance Virtual Offices provides Virtual Office solutions and a whole slew of other digital services for business owners hoping to save money and scale effectively.
With a Virtual Office from Alliance, you're able to put on a professional and legitimate face you can use to inspire confidence in lenders, investors, clients, and even consumers.
Finding business funding with no credit check isn't easy, but with a Virtual Office, you may be able to build your business's credit history without utilizing these nontraditional alternatives.
Contact us to see how Alliance can help you find business funding with no credit check and be sure to check out our Virtual Office Blog for more!