O'Hear Ave. Virtual Office Spaces in Charleston, SC
Build Your Business with a Virtual Business Address From Alliance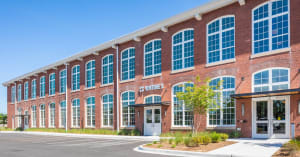 O'Hear Ave. in Charleston, SC
Garco Mill
4900 O'Hear Ave.
Suites 100 & 200
Charleston SC United States 29405
INQUIRE ABOUT
VIRTUAL OFFICES
Get A Virtual Office Now

-

Select A Plan For This Address:
Or call: [ North America: +1 888.869.9494 ] [ International: +1 949.777.6340 ]
Minimum 6 month term applies for all plans.
These add ons may be available and are additional charges:
Main building directory listing, professional admin services and professional business support center
VIRTUAL OFFICE DESCRIPTION
Need a recognizable business address in Charleston? Our O'Hear Avenue virtual office in Garco Mill is certain to make your business stand out. Make a lasting impression on colleagues with our professional Live Receptionists to ensure you never miss that important call. Along with a well-known business address, clients have access to personalized phone numbers and mail forwarding and handling. Enjoy on-site amenities such as 24 hour access to numerous fully-equipped offices, networking opportunities, meeting rooms, and more.
Virtual Office in North Charleston, South Carolina
Whether you're a start-up in need of instant credibility or you are wanting to expand, having a well-known business address will go a long way in expanding your reputation with clients. Our virtual office at 4900 O'Hear Avenue, North Charleston, SC 29405 can give your business the credibility it deserves.
Garco Mills Virtual Office Features and Benefits
Along with a reputable address, keep expanding your enterprise with our mail forwarding options and professional Live Receptionist services. We'll help you maintain professionalism as you get work done from anywhere.
Spend less time answering the phone: All calls are expertly screened and answered by professional receptionists, minimizing distractions and giving you more time to concentrate on your business.
Protect your cell phone number: Give your enterprise the reputability it is deserving of with a 411-listed business number. No more accepting business phone calls from your personal number. Publish your local North Charleston number on any business collateral such as a business cards or website. You can connect your staff with clients with our market-leading Virtual Phone system.
Mail forwarding: Have your company mail sent to the address of your choosing for the postal rate plus a small service fee. Using your business address for mail shields your residence from unwelcome junk mail and keeps your personal address private.
Eager to advance your company? Alliance provides you a solution to working virtually. You'll get an established North Charleston business address, Live Receptionist services, mail forwarding, and a local phone number
Locations Near Garco Mill
flaticon-marker
1156 Bowman Rd. 200, Mt. Pleasant, SC 29464
Browman Rd. Office Center
flaticon-tag
Starting at:
$75/mo
flaticon-right-arrow
flaticon-marker
1501 Belle Isle Avenue Suite 110, Mount Pleasant, SC 29464
Belle Isle Avenue Office Center
flaticon-tag
Starting at:
$79/mo
flaticon-right-arrow
flaticon-marker
460 King Street Suite 200, Charleston, SC 29403
King Street Office Center
flaticon-tag
Starting at:
$79/mo
flaticon-right-arrow