New York, NY Virtual Office and Business Address at 353 Lexington Avenue, 10016
Lexington Avenue Office Center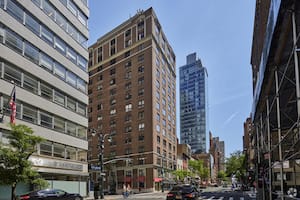 Lexington Avenue Office Center
353 Lexington Avenue
4th and 5th Floor
New York NY United States 10016
INQUIRE ABOUT
VIRTUAL OFFICES
Get A Virtual Office Now

-

Select A Plan For This Address:
Or call: [ North America: +1 888.869.9494 ] [ International: +1 949.777.6340 ]
Minimum 6 month term applies for all plans.
These add ons may be available and are additional charges:
Main building directory listing, professional admin services and professional business support center
Platinum Plus Plans:
Board rooms, seminar rooms and training rooms are not included in 16 hours of meeting room time.
VIRTUAL OFFICE DESCRIPTION
Impress clients with a prestigious Lexington Avenue business address in New York City! Our workspace on the 4th and 5th floors of this state-of-the-art building offers forwarding services and Live Receptionist call answering support to ensure your workday runs smoothly. Thanks to this leading workspace operator, your business will stand out with numerous amenities such as access to on-site conference rooms, private offices, staffed reception and high-speed internet access in the inspiring city.
Locations Near Lexington Avenue Office Center
flaticon-marker
42 Broadway 12th Fl , New York, NY 10004
Financial District
flaticon-tag
Starting at:
$49/mo
flaticon-right-arrow
flaticon-marker
48 Wall Street Suite 1100, New York, NY 10005
Wall Street Office Center
flaticon-tag
Starting at:
$99/mo
flaticon-right-arrow
flaticon-marker
30 Wall Street 8th Floor, New York, NY 10005
Wall Street Office Center
flaticon-tag
Starting at:
$50/mo
flaticon-right-arrow
flaticon-marker
1441 Broadway 3rd, 5th & 6th Floors, New York, NY 10018
10 Times Square
flaticon-tag
Starting at:
$79/mo
flaticon-right-arrow
flaticon-marker
211 East 43rd Street 7th Fl , New York, NY 10017
Midtown East
flaticon-tag
Starting at:
$49/mo
flaticon-right-arrow