West 38 Street Virtual Office | New York, NY, 10018
Build Your Business with a Virtual Business Address From Alliance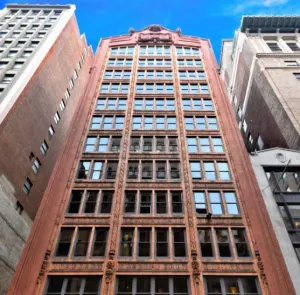 West 38 Street in New York, NY
Fifth Avenue Office Center
15 West 38 Street
New York NY United States 10018
INQUIRE ABOUT
VIRTUAL OFFICES
Get A Virtual Office Now

-

Select A Plan For This Address:
Or call: [ North America: +1 888.869.9494 ] [ International: +1 949.777.6340 ]
Minimum 6 month term applies for all plans.
These add ons may be available and are additional charges:
Main building directory listing, professional admin services and professional business support center
Platinum Plus Plans:
Board rooms, seminar rooms and training rooms are not included in 4 hours of meeting room or private office time
VIRTUAL OFFICE DESCRIPTION
A recognizable business address in New York City is the first step in making your company stand out. Our virtual office is guaranteed to make a lasting impression on colleagues. Clients have access to personalized phone numbers, inspiring collaborative spaces, friendly Live Receptionists, efficient mail forwarding services, and more. Virtual office clients also gain access to on-site IT support, private offices, and meeting rooms to reach full productivity.
Virtual Office in New York, New York
Whether you're a start-up in need of instant credibility or you're looking to grow, having a well-known Garment District office address will help accelerate expanding reputability with clients. Our virtual office at 61 West 37th Street, New York, NY 10018 can offer your business the credibility it deserves.
Fifth Avenue Office Center Virtual Office Features and Benefits
In addition to a professional address, continue to grow your enterprise with our mail forwarding options and friendly, professional Live Receptionist services. We'll help you stay professional as you get work done from anywhere.
A better call experience for your customers: Our team offers friendly, professional call answering and gives your customers the service and commitment they expect.
Keep your cell number guarded: Give your company the reputability it is deserving of with a 411-listed business phone number. No more accepting work phone calls from your personal number. Publish your number on your company's site and connect with the world through a market-leading Virtual Phone system.
Mail forwarding: Using your business's address for mail protects your residence from unwanted junk mail and maintains your private personal address. Have your company mail forwarded to the address of your choice for the postal rate plus a nominal handling fee.
Eager to advance your company? Work the way you do best while securing long-term growth with our friendly, professional people, time-saving tools, and cost-effective services. Get your New York virtual address today.
Locations Near Fifth Avenue Office Center
flaticon-marker
42 Broadway 12th Fl , New York, NY 10004
Financial District
flaticon-tag
Starting at:
$49/mo
flaticon-right-arrow
flaticon-marker
353 Lexington Avenue 4th and 5th Floor, New York, NY 10016
Lexington Avenue Office Center
flaticon-tag
Starting at:
$49/mo
flaticon-right-arrow
flaticon-marker
48 Wall Street Suite 1100, New York, NY 10005
Wall Street Office Center
flaticon-tag
Starting at:
$99/mo
flaticon-right-arrow
flaticon-marker
30 Wall Street 8th Floor, New York, NY 10005
Wall Street Office Center
flaticon-tag
Starting at:
$50/mo
flaticon-right-arrow
flaticon-marker
1441 Broadway 3rd, 5th & 6th Floors, New York, NY 10018
10 Times Square
flaticon-tag
Starting at:
$79/mo
flaticon-right-arrow
flaticon-marker
211 East 43rd Street 7th Fl , New York, NY 10017
Midtown East
flaticon-tag
Starting at:
$49/mo
flaticon-right-arrow