W. Diversey Virtual Office Spaces in Chicago, IL
Build Your Business with a Virtual Office Space From Alliance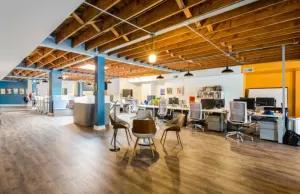 W. Diversey in Chicago, IL
Diversey Office Center
3432 W. Diversey
Floor 2
Chicago IL United States 60647
INQUIRE ABOUT
VIRTUAL OFFICES
Get A Virtual Office Now

-

Select A Plan For This Address:
Or call: [ North America: +1 888.869.9494 ] [ International: +1 949.777.6340 ]
Minimum 6 month term applies for all plans.
These add ons may be available and are additional charges:
Main building directory listing, professional admin services and professional business support center
Platinum Plus Plans:
Board rooms, seminar rooms and training rooms are not included in 16 hours of meeting room time.
VIRTUAL OFFICE DESCRIPTION
Our fantastic Chicago virtual office on West Diversey is the best option for any thriving business. Both eye-catching and a hub for productivity, this center also offers efficiencies such as mail forwarding services, coworking spaces, and Live Receptionist call answering support. Impress your clients and colleagues with spacious meeting rooms and network with like-minded professionals.
Virtual Office in Chicago, Illinois
Whether you're a start-up in need of instant credibility or you are hoping to grow, having an established Logan Square office address will help accelerate expanding your reputation with clients. Our virtual office located at 3517 West Wolfram Street, Chicago, IL 60618 can give your business the respect it deserves.
Diversey Office Center Virtual Office Features and Benefits
Along with a professional address, continue to expand your enterprise with our experienced Live Receptionist service and mail forwarding options. We'll help you maintain professionalism as you get work done from anywhere.
Spend less time answering your phone: Every call is expertly answered and screened by professional receptionists, which cuts interruptions, affording you more time to focus on your business.
Safeguard your mobile phone number: With a dedicated 411-listed business phone number, don't bother fielding work and personal calls from the same line. Publish your number on any business items like your website or business cards. You can connect your team with customers through our world-class Virtual Phone system.
Mail forwarding: Have your company mail forwarded to the location of your choosing for the postal rate plus a nominal handling fee. Using your company's address for mail safeguards your residence from unwelcome junk mail and keeps your personal address confidential.
Eager to advance your company? Work more flexibly and achieve sustainable business growth using our wallet-friendly services, professional team, and time-saving tools. Connect with our team soon to get your Chicago business address and virtual office.
Locations Near Diversey Office Center
flaticon-marker
205 North Michigan Avenue Suite 810, Chicago, IL 60601
North Michigan Business Center
flaticon-tag
Starting at:
$50/mo
flaticon-right-arrow
flaticon-marker
3047 N. Lincoln Ave. Suite 400, Chicago, IL 60657
Chicago Northside Office Center
flaticon-tag
Starting at:
$75/mo
flaticon-right-arrow
flaticon-marker
8745 W. Higgins Rd. Suite 110, Chicago, IL 60631
Ohare Plaza Building
flaticon-tag
Starting at:
$79/mo
flaticon-right-arrow
flaticon-marker
444 N. Michigan Avenue Suite 1200, Chicago, IL 60611
Michigan Avenue Office Center
flaticon-tag
Starting at:
$60/mo
flaticon-right-arrow
flaticon-marker
1655 S. Blue Island Ave. , Chicago, IL 60608
Blue Island Office Center
flaticon-tag
Starting at:
$55/mo
flaticon-right-arrow
flaticon-marker
1016 W. Jackson Blvd. , Chicago, IL 60607
Jackson Center
flaticon-tag
Starting at:
$59/mo
flaticon-right-arrow