The Exchange Virtual Office Spaces in Atlanta, GA
Professional Virtual Business Addresses for Atlanta professionals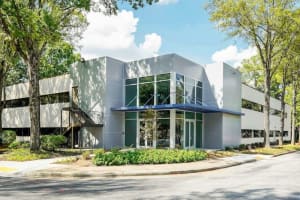 The Exchange in Atlanta, GA
The Exchange Office Center
1870 The Exchange SE
Suite 200
Atlanta GA United States 30339
INQUIRE ABOUT
VIRTUAL OFFICES
Get A Virtual Office Now

-

Select A Plan For This Address:
Or call: [ North America: +1 888.869.9494 ] [ International: +1 949.777.6340 ]
Minimum 6 month term applies for all plans.
These add ons may be available and are additional charges:
Main building directory listing, professional admin services and professional business support center
Platinum Plus Plans:
Board rooms, seminar rooms and training rooms are not included in 16 hours of meeting room time.
VIRTUAL OFFICE DESCRIPTION
Need a recognizable business address in Atlanta? Our prestigious The Exchange virtual office is certain to make your business stand out. Make a lasting impression on colleagues with our professional Live Receptionists to ensure you never miss that important call. Along with a well-known business address, clients have access to personalized phone numbers and mail forwarding and handling. Enjoy on-site amenities such as 24 hour access to numerous fully-equipped offices, meeting rooms, and more.
Virtual Office in Marietta, Georgia
With remote work on the rise and probably here to stay, many have traded the daily commute and are just as successful working from home. However, your business address still plays a big role in forming your reputation with clients. Enter your Marietta, Georgia virtual office in The Exchange Office Center. We can help you set up your virtual office in Marietta today.
The Exchange Office Center Virtual Office Features and Benefits
Alliance Virtual Offices has thousands of locations in 40 countries with more added every day. Your office can be virtually anywhere you want it to be. And whether you choose The Exchange Office Center or a different Marietta virtual office, you can expect us to maintain the professionalism you deserve. Our Live Receptionist and mail forwarding service plans will help you save time while you work remote.
Increase efficiency and concentrate on your company: When you have an incoming call, our expert receptionists screen and answer it so you can remain focused on your company.
Keep your cell number safeguarded: Give your enterprise the reputability it deserves with a 411-listed business phone number. Now you can stop answering work phone calls from your personal number. Display your number on any client-facing items such as a business cards or website. Connect your staff with customers with our world-class Virtual Phone system.
Mail forwarding: Using your company address for mail shields your household from unwelcome junk mail and keeps your home address private. Have your business mail forwarded to the address of your choice for the postal rate plus a nominal service fee.
Ready to strengthen your business's credibility? Work more flexibly and accomplish lasting business growth with our friendly, professional team, time-saving platform, and low-cost services. You can get your Marietta virtual address today.
Locations Near The Exchange Office Center
flaticon-marker
3355 Lenox Road NE Suite 750, Atlanta, GA 30326
Lenox Center
flaticon-tag
Starting at:
$59/mo
flaticon-right-arrow
flaticon-marker
235 Peachtree Street NE Suite 400, Atlanta, GA 30303
Peachtree Center
flaticon-tag
Starting at:
$59/mo
flaticon-right-arrow
flaticon-marker
1100 Peachtree St. NE Suite 200, Atlanta, GA 30309
1100 Peachtree
flaticon-tag
Starting at:
$59/mo
flaticon-right-arrow
flaticon-marker
3675 Crestwood Parkway Suite 400, Duluth, GA 30096
Crestwood Parkway Office Center
flaticon-tag
Starting at:
$70/mo
flaticon-right-arrow
flaticon-marker
691 John Wesley Dobbs Ave. NE Suite C, Atlanta, GA 30312
John Wesley Dobbs Office Center
flaticon-tag
Starting at:
$50/mo
flaticon-right-arrow