Virtual Office Space at Celebration Blvd. | Celebration, FL, 34747
Build Your Business with a Virtual Office Space From Alliance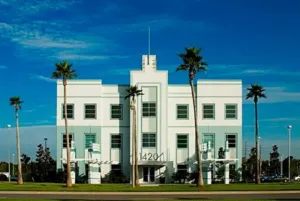 Celebration Blvd. in Celebration, FL
Live Receptionists & Virtual Office Services
Celebration Corporate Center
1420 Celebration Blvd.
Suite 200
Celebration FL United States 34747
INQUIRE ABOUT
VIRTUAL OFFICES
Get A Virtual Office Now

-

Select A Plan For This Address:
Or call: [ North America: +1 888.869.9494 ] [ International: +1 949.777.6340 ]
Minimum 6 month term applies for all plans.
These add ons may be available and are additional charges:
Main building directory listing, professional admin services and professional business support center
Platinum Plus Plans:
Board rooms, seminar rooms and training rooms are not included in 16 hours of meeting room time.
VIRTUAL OFFICE DESCRIPTION
Take advantage of our fully equipped virtual office in Celebration, FL with state-of-the-art technology. This virtual office includes wireless hi-speed internet throughout, fully furnished offices, a professional executive lobby, spacious lounge/kitchen area, a training room which accommodates up to 25 people, two conference rooms and day offices, all maintained by our professional, multi-lingual staff. This Celebration virtual office is easy to access when you need to have a meeting with a client in a conference room or just spend time in a day office.
Celebration Blvd. Virtual Office in Celebration, Florida
With remote work on the rise and probably here to stay, many don't need a physical office. However, your business address still plays a large role in your company's overall credibility. Enter your Celebration, Florida virtual office in the Celebration Corporate Center. We can help you establish your virtual office in Celebration today.
Celebration Corporate Center Virtual Office Features and Benefits
Alliance Virtual Offices has thousands of locations in 40 countries with more added every day. Your office can be virtually anywhere you want it to be. And no matter if you choose the Celebration Corporate Center or another Celebration virtual office, we aim to maintain the professionalism you expect. Our mail forwarding service and Live Receptionist plans will help you stay professional as you work remote.
A better call experience for your customers: Your callers will get the service and commitment they expect with our friendly, professional receptionists.
Protect your cell phone number: Give your business the credibility it is deserving of with a 411-listed business number. Now you can stop answering client phone calls from your personal number. Display your local Celebration number on any business collateral like your website or business cards. Connect your team with clients with our market-leading Virtual Phone system.
Mail forwarding: Have your company mail sent to the address of your choice for the postal rate plus a nominal service fee. Using your company's address for mail protects your residence from unsolicited junk mail and keeps your personal address private.
Ready to take the next step in expanding your business? Work more flexibly and achieve long-term growth with our friendly, professional team, time-saving tools, and cost-effective services. Secure your Celebration virtual address today.
Locations Near Celebration Corporate Center
flaticon-marker
100 East Pine Street Suite 110, Orlando, FL 32801
100 East Pine
flaticon-tag
Starting at:
$59/mo
flaticon-right-arrow
flaticon-marker
2295 S Hiawassee Rd. Suite 104, Orlando, FL 32835
Hiawassee Rd. Office Center
flaticon-tag
Starting at:
$69/mo
flaticon-right-arrow
flaticon-marker
1060 Woodcock Road , Orlando, FL 32803
Woodcock Road Office Center
flaticon-tag
Starting at:
$69/mo
flaticon-right-arrow
flaticon-marker
390 North Orange Avenue Suite 2300, Orlando, FL 32801
Bank of America Center
flaticon-tag
Starting at:
$69/mo
flaticon-right-arrow
flaticon-marker
7726 Winegard Rd 2nd Floor, Orlando, FL 32809
Royal Shoppes
flaticon-tag
Starting at:
$59/mo
flaticon-right-arrow
flaticon-marker
12001 Research Parkway Suite 236, Orlando, FL 32826
Research Parkway Office Center
flaticon-tag
Starting at:
$69/mo
flaticon-right-arrow