N. Federal Hwy Virtual Office Space | Boca Raton, FL, 33432
Build Your Business with a Virtual Business Address From Alliance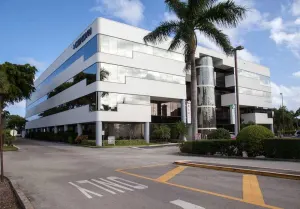 N. Federal Hwy in Boca Raton, FL
Federal Hwy Office Center
980 N. Federal Hwy
Suite 110
Boca Raton FL United States 33432
INQUIRE ABOUT
VIRTUAL OFFICES
Get A Virtual Office Now

-

Select A Plan For This Address:
Or call: [ North America: +1 888.869.9494 ] [ International: +1 949.777.6340 ]
Minimum 6 month term applies for all plans.
These add ons may be available and are additional charges:
Main building directory listing, professional admin services and professional business support center
Platinum Plus Plans:
Board rooms, seminar rooms and training rooms are not included in 16 hours of meeting room time.
VIRTUAL OFFICE DESCRIPTION
Our impressive virtual office is located in the most eye-catching, unique and modern spaces in Boca Raton. Get access to friendly Live Receptionists, mail forwarding and a innovative meeting space to ensure each workday reaches full productivity. Network with the world's most notable entrepreneurs at our inspiring events or in our on-site restaurant and bar. Virtual office clients can enjoy a prestigious North Federal Highway business address, call answering services, access to furnished offices, and more.
Virtual Office in Boca Raton, Florida
With remote work on the rise and probably here to stay, many have traded their daily commute and are just as successful working from home. However, your business address still plays a big role in forming your credibility with clients. Enter your Boca Raton, Florida virtual office in the Federal Hwy Office Center. We can help you establish your virtual office in Boca Raton today.
Federal Hwy Office Center Virtual Office Features and Benefits
Alliance Virtual Offices has thousands of locations in 40 countries with more added every day. Our customers choose us because they know they need their office address to be something other than their home or a P.O. box. And whether you choose the Federal Hwy Office Center or another Boca Raton virtual office, you can expect us to maintain the professionalism you deserve. Our mail forwarding service and Live Receptionist plans will help you stay professional as you work remote.
Improve your customers' experience: Our team provides friendly, professional call answering that gives your clients the service and commitment they expect.
Keep your mobile phone number guarded: With a dedicated 411-listed business phone number, don't bother fielding personal and business calls from the same line. Publish your number on any client-facing materials such as a business cards or website. You can connect your team with clients using our leading Virtual Phone system.
Mail forwarding: No more frustration about sorting unwelcome junk mail at your home address. Our mail-forwarding service can send mail to the address of your choosing. Keep your home address private when you use your company's address for mail.
Eager to take your business further? Alliance provides your business a complete solution to working virtually. You'll receive a recognized Boca Raton business address, Live Receptionist services, mail handling, and a local phone number
Locations Near Federal Hwy Office Center
flaticon-marker
55 SE 2nd Ave. , Delray Beach, FL 33444
2nd Ave. Office Center
flaticon-tag
Starting at:
$150/mo
flaticon-right-arrow
flaticon-marker
261 N University Drive Suite 500, Plantation, FL 33324
Offices at Plantation Walk
flaticon-tag
Starting at:
$80/mo
flaticon-right-arrow
flaticon-marker
300 SE 2nd Street Suite 600, Fort Lauderdale, FL 33301
2nd Street Office Center
flaticon-tag
Starting at:
$50/mo
flaticon-right-arrow
flaticon-marker
7000 West Palmetto Park Road Suite 210, Boca Raton, FL 33433
West Palmetto Office Center
flaticon-tag
Starting at:
$95/mo
flaticon-right-arrow
flaticon-marker
4800 N Federal Hwy Suite B200, Boca Raton, FL 33431
The Sanctuary Centre
flaticon-tag
Starting at:
$89/mo
flaticon-right-arrow
flaticon-marker
1200 N. Federal Hwy. Suite 200, Boca Raton, FL 33432
1200 Corporate Place
flaticon-tag
Starting at:
$99/mo
flaticon-right-arrow