Virtual office at Pine Avenue | Long Beach, CA, 90802
Long Beach Virtual Business Address & Live Receptionist Answering Service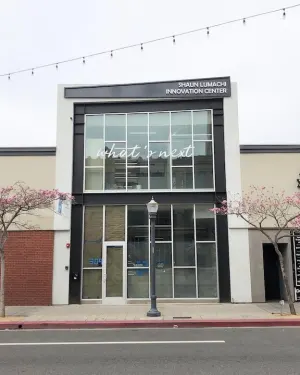 Pine Avenue Office Center
309 Pine Avenue
Long Beach CA United States 90802
INQUIRE ABOUT
VIRTUAL OFFICES
Get A Virtual Office Now

-

Select A Plan For This Address:
Or call: [ North America: +1 888.869.9494 ] [ International: +1 949.777.6340 ]
Minimum 6 month term applies for all plans.
These add ons may be available and are additional charges:
Main building directory listing, professional admin services and professional business support center
VIRTUAL OFFICE DESCRIPTION
Build a local, marketable presence in Long Beach, CA, with a recognized downtown business address on Pine Avenue. Mail is received and stored securely for local pickup or forwarded to the destination of your choice for a small additional fee. With a virtual office, entrepreneurs can also access onsite meeting rooms and collaborative workspace by the hour or day, making hybrid work a breeze. Live receptionist plans with professional call answering, appointment scheduling and virtual phone services are also available.
Locations Near Pine Avenue Office Center
flaticon-marker
One Park Plaza Suite 600, Irvine, CA 92614
The Jamboree Center
flaticon-tag
Starting at:
$95/mo
flaticon-right-arrow
flaticon-marker
355 S. Grand Ave. Suite 2450, Los Angeles, CA 90071
KPMG Building
flaticon-tag
Starting at:
$79/mo
flaticon-right-arrow
flaticon-marker
6600 Sunset Blvd. , Los Angeles, CA 90028
Hollywood Office Center
flaticon-tag
Starting at:
$135/mo
flaticon-right-arrow
flaticon-marker
8939 S. Sepulveda Blvd. Suite 102, Los Angeles, CA 90045
Airport Office Center
flaticon-tag
Starting at:
$60/mo
flaticon-right-arrow
flaticon-marker
7080 Hollywood Boulevard Suite 1100, Los Angeles, CA 90028
Hollywood Boulevard Office Center
flaticon-tag
Starting at:
$95/mo
flaticon-right-arrow
flaticon-marker
4199 Campus Drive, Suite 550 , Irvine, CA 92612
University Tower Business Center
flaticon-tag
Starting at:
$75/mo
flaticon-right-arrow