Airport Blvd. No. 400 Virtual Office Space | Burlingame, CA, 94010
Grow Your Business with a Virtual Office Space From Alliance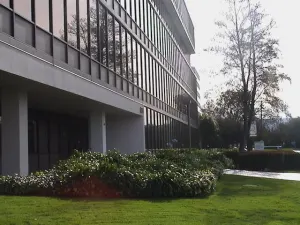 Airport Blvd. No. 400 in Burlingame, CA
Live Receptionists & Virtual Office Services
Airport Corporate Center
533 Airport Blvd. No. 400
Burlingame CA United States 94010
INQUIRE ABOUT
VIRTUAL OFFICES
Get A Virtual Office Now

-

Select A Plan For This Address:
Or call: [ North America: +1 888.869.9494 ] [ International: +1 949.777.6340 ]
Minimum 6 month term applies for all plans.
These add ons may be available and are additional charges:
Main building directory listing, professional admin services and professional business support center
Platinum Plus Plans:
Board rooms, seminar rooms and training rooms are not included in 8 hours of meeting room
VIRTUAL OFFICE DESCRIPTION
Since 1979, small businesses have benefited from the first-class service and corporate amenities at this fantastic Bay Area virtual office. Impress your clients with a prime business address in Burlingame by the San Francisco Airport, which doubles up as a mailing address facility; all corporate mail is received, sorted and stored for local pickup or forwarded to the destination of your choice. In addition to mail forwarding services, virtual office clients can utilize the center's shared workspace and conference rooms for client meetings, which is guaranteed to make excellent first impressions.
Airport Blvd. No. 400 Virtual Office in Burlingame, California
Business as usual is anything but usual these days, and many have traded their long commute and are just as successful working from home. However, your company's address still plays an important role in your company's overall credibility. Enter your Burlingame, California virtual office in the Airport Corporate Center. We'll help you establish your virtual office in Burlingame in no time.
Airport Corporate Center Virtual Office Features and Benefits
In addition to your reputable address, continue to expand your company with our mail forwarding options and professional Live Receptionist services. We'll help you stay professional while you get work done from anywhere.
Increase efficiency and focus on your company: Every time you get a call, our professional receptionists screen and answer it so you can focus on your business.
Safeguard your mobile phone number: With a dedicated 411-listed business phone number, no need to worry about fielding personal and business calls from the same line. Publish your number on any business collateral like your business cards or website. Connect your team with clients using our market-leading Virtual Phone system.
Mail forwarding: Using your business's address for mail shields your home from unwelcome junk mail and maintains your private personal address. Have your business mail sent to the address of your choosing for the postal rate and a nominal service fee.
Ready to expand your business's reputation? We provide your business a complete solution to virtual working. You'll get an established Burlingame business address, Live Receptionist services, mail forwarding, and a local phone number
Locations Near Airport Corporate Center
flaticon-marker
201 Spear Street Suite 1100, San Francisco, CA 94105
Spear Street Office Center
flaticon-tag
Starting at:
$74/mo
flaticon-right-arrow
flaticon-marker
100 S. Murphy Ave. Suite 200, Sunnyvale, CA 94086
Murphy Ave. Office Center
flaticon-tag
Starting at:
$88/mo
flaticon-right-arrow
flaticon-marker
8407 Central Avenue , Newark, CA 94560
Central Avenue Office Center
flaticon-tag
Starting at:
$65/mo
flaticon-right-arrow
flaticon-marker
2323 Broadway , Oakland, CA 94612
Broadway Office Center
flaticon-tag
Starting at:
$50/mo
flaticon-right-arrow
flaticon-marker
4125 Hopyard Road Suite 225, Pleasanton, CA 94588
Hopyard Road Office Center
flaticon-tag
Starting at:
$69/mo
flaticon-right-arrow