West Olive Avenue Virtual Office | Burbank, CA, 91505
High quality Virtual Office Space for Burbank professionals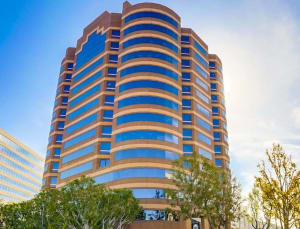 West Olive in Burbank, CA
Live Answering & Virtual Office Solutions
Central Park at Toluca Lake
3500 West Olive Avenue
3rd Floor
Burbank CA United States 91505
INQUIRE ABOUT
VIRTUAL OFFICES
Get A Virtual Office Now

-

Select A Plan For This Address:
Or call: [ North America: +1 888.869.9494 ] [ International: +1 949.777.6340 ]
Minimum 6 month term applies for all plans.
These add ons may be available and are additional charges:
Main building directory listing, professional admin services and professional business support center
Platinum Plus Plans:
Board rooms, seminar rooms and training rooms are not included in 16 hours of meeting room time.
VIRTUAL OFFICE DESCRIPTION
Make a lasting impression on colleagues with our convenient virtual office in Burbank. Clients will have access to our efficient mail forwarding services, friendly Live Receptionists, personalized phone numbers, and more. In addition to a recognized business address, virtual office clients services can enjoy on-site conference rooms and coworking spaces to ensure their company stands above the competition.
West Olive Virtual Office in Burbank, California
Whether your business is just getting started or you're hoping to grow, having a well-known Media office address will go a long way in increasing reputability with clients. Our virtual office at 3400 West Riverside Drive, Burbank, CA 91505 can give your business the respect it deserves.
Central Park at Toluca Lake Virtual Office Features and Benefits
Along with a professional location, continue to expand your company with our experienced Live Receptionist service and mail forwarding options. We'll help you stay professional as you work remotely.
Increase efficiency and focus on your company: When you have a phone call, our professional receptionists screen and answer it so you don't have to. Instead, focus on your company.
Guard your cell phone number: Give your enterprise the credibility it deserves with a 411-listed business number. No more answering business calls from your personal number. Publish your number on your business's site and connect your team with clients from all over the globe through our market-leading Virtual Phone system.
Mail forwarding: No more worrying about sorting unwanted junk mail at your home address. With our mail-forwarding service, get mail sent to the address of your choosing. Keep your home address private by using your company's address for mail.
Eager to advance your business? Work more flexibly and secure sustainable business growth with our friendly, professional team, time-saving tools, and low-cost services. Sign up for your Burbank virtual office today.
Locations Near Central Park at Toluca Lake
flaticon-marker
355 S. Grand Ave. Suite 2450, Los Angeles, CA 90071
KPMG Building
flaticon-tag
Starting at:
$79/mo
flaticon-right-arrow
flaticon-marker
6600 Sunset Blvd. , Los Angeles, CA 90028
Hollywood Office Center
flaticon-tag
Starting at:
$135/mo
flaticon-right-arrow
flaticon-marker
8939 S. Sepulveda Blvd. Suite 102, Los Angeles, CA 90045
Airport Office Center
flaticon-tag
Starting at:
$60/mo
flaticon-right-arrow
flaticon-marker
7080 Hollywood Boulevard Suite 1100, Los Angeles, CA 90028
Hollywood Boulevard Office Center
flaticon-tag
Starting at:
$95/mo
flaticon-right-arrow
flaticon-marker
11845 W. Olympic Blvd. Suite 1100, Los Angeles, CA 90064
Westside Towers
flaticon-tag
Starting at:
$99/mo
flaticon-right-arrow
flaticon-marker
11400 West Olympic Blvd. Suite 200, Los Angeles, CA 90064
Executive Tower
flaticon-tag
Starting at:
$59/mo
flaticon-right-arrow