Virtual Office Space at Wilshire Boulevard | Beverly Hills, CA, 90212
Build Your Business with a Virtual Office Space From Alliance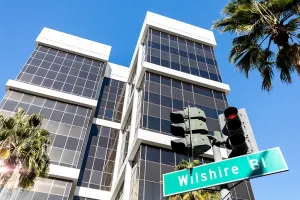 Wilshire Boulevard in Beverly Hills, CA
Live Receptionists & Virtual Office Services
Beverly Hills Triangle Business Center
9595 Wilshire Boulevard
Suite 900
Beverly Hills CA United States 90212
INQUIRE ABOUT
VIRTUAL OFFICES
Get A Virtual Office Now

-

Select A Plan For This Address:
Or call: [ North America: +1 888.869.9494 ] [ International: +1 949.777.6340 ]
Minimum 6 month term applies for all plans.
These add ons may be available and are additional charges:
Main building directory listing, professional admin services and professional business support center
VIRTUAL OFFICE DESCRIPTION
This Beverly Hills virtual office, conveniently located on Wilshire Boulevard, is one of the most popular virtual office space locations due to its prestigious address on Wilshire Boulevard near Rodeo Drive. But this virtual office space is more than just "location" with a range of services that will make your business hum. Offerings include easy parking, meetings rooms with simple reservations, mail handling and day offices.
Wilshire Boulevard Virtual Office in Beverly Hills, California
With remote work on the rise and probably here to stay, many don't rely on a physical office. However, your business address still plays a pivotal role in making your company seem reputable to clients. Enter your Beverly Hills, California virtual office in the Beverly Hills Triangle Business Center. We'll assist you in establishing your virtual office in Beverly Hills in no time.
Beverly Hills Triangle Business Center Virtual Office Features and Benefits
Along with your professional location, continue to grow your business with our mail forwarding options and professional Live Receptionist services. We'll help you stay professional as you get work done from anywhere.
Spend less time answering the phone: Every time you get a phone call, our professional receptionists screen and answer it so you are able to stay focused on your business.
Guard your mobile number: With a dedicated 411-listed business phone number, there's no need to worry about fielding personal and work calls from the same line. Publish your local Beverly Hills number on your business's website and connect with the world through a market-leading Virtual Phone system.
Mail forwarding: Have your company mail sent to the location of your choice for the postal rate plus a small handling fee. Using your business address for mail protects your home from unsolicited junk mail and keeps your personal address private.
Eager to take your business further? We supply you and your business a comprehensive solution to working virtually. You'll receive a recognized Beverly Hills business address, Live Receptionist services, mail handling, and a local phone number
Locations Near Beverly Hills Triangle Business Center
flaticon-marker
355 S. Grand Ave. Suite 2450, Los Angeles, CA 90071
KPMG Building
flaticon-tag
Starting at:
$79/mo
flaticon-right-arrow
flaticon-marker
6600 Sunset Blvd. , Los Angeles, CA 90028
Hollywood Office Center
flaticon-tag
Starting at:
$135/mo
flaticon-right-arrow
flaticon-marker
8939 S. Sepulveda Blvd. Suite 102, Los Angeles, CA 90045
Airport Office Center
flaticon-tag
Starting at:
$60/mo
flaticon-right-arrow
flaticon-marker
7080 Hollywood Boulevard Suite 1100, Los Angeles, CA 90028
Hollywood Boulevard Office Center
flaticon-tag
Starting at:
$95/mo
flaticon-right-arrow
flaticon-marker
11845 W. Olympic Blvd. Suite 1100, Los Angeles, CA 90064
Westside Towers
flaticon-tag
Starting at:
$99/mo
flaticon-right-arrow
flaticon-marker
11400 West Olympic Blvd. Suite 200, Los Angeles, CA 90064
Executive Tower
flaticon-tag
Starting at:
$59/mo
flaticon-right-arrow