Virtual Office at Calz. Legaria No. 549 | Mexico City, 11250
Convenient Virtual Office Space for Mexico City businesses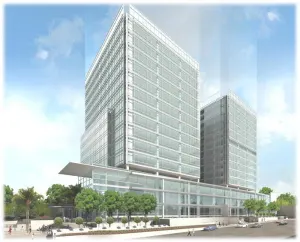 Calz. Legaria No. 549 in Mexico City, MX
Live Receptionists & Virtual Office Services
Legaria Polanco
Calz. Legaria No. 549
Torre I, Piso 4, Deleg. Miguel Hidalgo
Mexico City Mexico 11250
INQUIRE ABOUT
VIRTUAL OFFICES
Get A Virtual Office Now

-

Select A Plan For This Address:
Or call: [ North America: +1 888.869.9494 ] [ International: +1 949.777.6340 ]
Minimum 6 month term applies for all plans.
These add ons may be available and are additional charges:
Main building directory listing, professional admin services and professional business support center
Platinum Plus Plans:
Board rooms, seminar rooms and training rooms are not included in 16 hours of meeting room time.
VIRTUAL OFFICE DESCRIPTION
Looking for a business address with the 'X' factor? Look no further. These Polanco virtual offices provide a recognizable business address in a prestigious area northwest of Mexico City. Benefit from professional call answering services courtesy of fully trained receptionists to give your clients the right first impression, and make use of the business center's beautiful on-site amenities whenever you need a physical office space. The business center itself is easy to find thanks to its location just off the Av Rio San Joaquin, and offers well-appointed day offices and meeting rooms for hire. If you're looking for a professional virtual office in Polanco with all the trimmings, this first-rate location ticks all the right boxes... and then some.
Locations Near Legaria Polanco
flaticon-marker
Av. Patriotismo #201 Colonia San Pedro de los Pino Piso 4, Mexico City, 03800
Metropoli Patriotismo
flaticon-tag
Starting at:
$80/mo
flaticon-right-arrow
flaticon-marker
Av. Revolution #1267 Col. Los Alpes Delegation Alvaro Obregon, Floor 2, Mexico City, 01040
Portal San Angel
flaticon-tag
Starting at:
$80/mo
flaticon-right-arrow
flaticon-marker
Calle Lago Alberto #319, Col. Granada Delegación Miguel Hidalgo, Mexico City, 11520
Punto Polanco
flaticon-tag
Starting at:
$80/mo
flaticon-right-arrow
flaticon-marker
Paseo de la Reforma #180 Col. Juarez Delegación Cuauhtémoc, Mexico City, 06600
Reforma 180
flaticon-tag
Starting at:
$80/mo
flaticon-right-arrow
flaticon-marker
Calle Rio Lerma #232 Delegación Cuahutemoc, 23rd Floor, Mexico City, 06500
Torre Diana
flaticon-tag
Starting at:
$80/mo
flaticon-right-arrow
flaticon-marker
Av. Insurgentes Sur 1431 Insurgentes Mixcoac, Benito Juarez 10th Floor, Mexico City, 03920
Insurgentes Sur 1431
flaticon-tag
Starting at:
$80/mo
flaticon-right-arrow