Ave. Insurgentes Sur 730 Virtual Office Spaces in Mexico City
Affordable Virtual Business Addresses for Mexico City professionals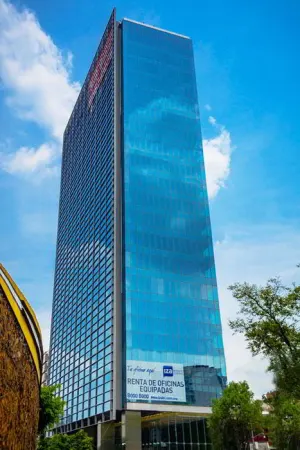 Ave. Insurgentes Sur 730 in Mexico City, MX
Live Answering & Virtual Office Solutions
Vistral
Ave. Insurgentes Sur 730
Col. Del Valle Norte, Benito Juárez
Mexico City Mexico 03100
INQUIRE ABOUT
VIRTUAL OFFICES
Get A Virtual Office Now

-

Select A Plan For This Address:
Or call: [ North America: +1 888.869.9494 ] [ International: +1 949.777.6340 ]
Minimum 6 month term applies for all plans.
These add ons may be available and are additional charges:
Main building directory listing, professional admin services and professional business support center
Platinum Plus Plans:
Board rooms, seminar rooms and training rooms are not included in 16 hours of meeting room time.
VIRTUAL OFFICE DESCRIPTION
Looking to grow your business? Then it's time to try a virtual office on for size. This virtual office in Mexico City, from its commanding location on the Avenue de los Insurgentes Sur, is the ideal place from which to take your business to the next level. Operated by one of Mexico's leading virtual office operators, benefit from professional call answering and receptionist services, mail handling and forwarding, a recognized business address and the opportunity to hire day offices or meeting rooms on-demand. With a first class business environment and prestigious on-site amenities, this virtual office is everything your growing enterprise needs to shift business up a gear.
Locations Near Vistral
flaticon-marker
Av. Patriotismo #201 Colonia San Pedro de los Pino Piso 4, Mexico City, 03800
Metropoli Patriotismo
flaticon-tag
Starting at:
$80/mo
More Details
flaticon-right-arrow
flaticon-marker
Av. Revolution #1267 Col. Los Alpes Delegation Alvaro Obregon, Floor 2, Mexico City, 01040
Portal San Angel
flaticon-tag
Starting at:
$80/mo
More Details
flaticon-right-arrow
flaticon-marker
Calle Lago Alberto #319, Col. Granada Delegación Miguel Hidalgo, Mexico City, 11520
Punto Polanco
flaticon-tag
Starting at:
$80/mo
More Details
flaticon-right-arrow
flaticon-marker
Paseo de la Reforma #180 Col. Juarez Delegación Cuauhtémoc, Mexico City, 06600
Reforma 180
flaticon-tag
Starting at:
$80/mo
More Details
flaticon-right-arrow
flaticon-marker
Calle Rio Lerma #232 Delegación Cuahutemoc, 23rd Floor, Mexico City, 06500
Torre Diana
flaticon-tag
Starting at:
$80/mo
More Details
flaticon-right-arrow
flaticon-marker
Av. Insurgentes Sur 1431 Insurgentes Mixcoac, Benito Juarez 10th Floor, Mexico City, 03920
Insurgentes Sur 1431
flaticon-tag
Starting at:
$80/mo
More Details
flaticon-right-arrow