Meeting Room Rentals in Monterrey at Calzada San Pedro #250 Nte.
Live Receptionists and Virtual Offices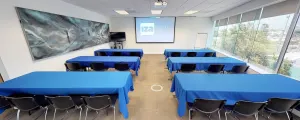 Miravalle Business Center Office Space
Calzada San Pedro #250 Nte.
Col. Miravalle
Monterrey Mexico 64660
CONFIGURE YOUR MEETING ROOM OPTIONS
SET YOUR DATE AND TIME
*
*
Booking is a request only. It does not constitute a confirmed booking; your room does not get charged until you have received confirmation from Alliance Virtual Offices.
PLEASE SELECT A MEETING ROOM AND OPTIONS