St Rose Parkway Virtual Office Spaces in Henderson, NV
High quality Virtual Business Addresses for Henderson businesses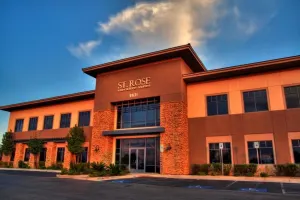 St Rose Parkway in Henderson, NV
Live Receptionist & Virtual Office Space
Henderson Business Center
2831 St Rose Parkway
Suite 200
Henderson NV United States 89052
INQUIRE ABOUT
VIRTUAL OFFICES
Get A Virtual Office Now

-

Select A Plan For This Address:
Or call: [ North America: +1 888.869.9494 ] [ International: +1 949.777.6340 ]
Minimum 6 month term applies for all plans.
These add ons may be available and are additional charges:
Main building directory listing, professional admin services and professional business support center
Platinum Plus Plans:
Board rooms, seminar rooms and training rooms are not included in 16 hours of meeting room time.
VIRTUAL OFFICE DESCRIPTION
Expand your business's proficiency from this Henderson virtual office near Las Vegas. Our on-demand amenities include reception services, wireless internet connection, temporary-use offices, conference rooms, locking mailboxes, reception services, and much more. This virtual office is easy to access when you need to have a meeting with a client in a conference room or just spend time in a day office.
St Rose Parkway Virtual Office in Henderson, Nevada
Business as usual is anything but usual these days, and many don't need a physical office. However, your company's address still plays a large role in your business's overall credibility. Enter your Henderson, Nevada virtual office in the Henderson Business Center. We will assist you in setting up your virtual office in Henderson today.
Henderson Business Center Virtual Office Features and Benefits
We get it. Expanding a company isn't only about location. Get the professionalism you need as you work from home with our mail forwarding options and Live Receptionist plans.
A better call experience for your customers: Your clients will get the service and expertise they expect with our friendly, professional receptionists.
Keep your mobile phone number protected: With a dedicated 411-listed business phone number, you don't have to worry about fielding business and personal calls from the same line. Publish your local Henderson number on any client-facing collateral like your website or business cards. You can connect your team with customers through our market-leading Virtual Phone system.
Mail forwarding: Using your business's address for mail shields your home from unwelcome junk mail and maintains your private home address. Have your business mail sent to the address of your choice for the postal rate plus a small handling fee.
Ready to take the next step in expanding your business? Work the way you do best while achieving long-term business growth with our friendly, professional people, time-saving platform, and cost-effective services. Chat with our staff now for your Henderson business address and virtual office.
Locations Near Henderson Business Center
flaticon-marker
3651 Lindell Road Suite D, Las Vegas, NV 89103
Lindell Professional Plaza
flaticon-tag
Starting at:
$50/mo
flaticon-right-arrow
flaticon-marker
5940 S. Rainbow Boulevard , Las Vegas, NV 89118
Rainbow Boulevard Office Center
flaticon-tag
Starting at:
$59/mo
flaticon-right-arrow
flaticon-marker
8565 South Eastern Avenue Suite 150, Las Vegas, NV 89123
South Eastern Avenue Office Center
flaticon-tag
Starting at:
$75/mo
flaticon-right-arrow
flaticon-marker
6605 Grand Montecito Pkwy Suite 100, Las Vegas, NV 89149
Grand Montecito Tower
flaticon-tag
Starting at:
$85/mo
flaticon-right-arrow
flaticon-marker
8275 S. Eastern Ave. Suite 200, Las Vegas, NV 89123
Eastern Ave. Office Center
flaticon-tag
Starting at:
$59/mo
flaticon-right-arrow
flaticon-marker
2620 Regatta Drive, Suite 102 , Las Vegas, NV 89128
Lakeside Center Business Suites
flaticon-tag
Starting at:
$89/mo
flaticon-right-arrow