Virtual Office Space at Los Gatos Blvd. | Los Gatos, CA, 95032
Los Gatos Virtual Business Address & Live Receptionist Answering Service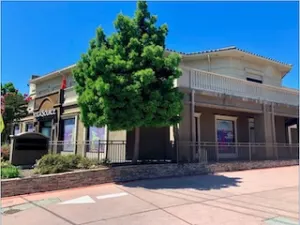 Los Gatos Blvd. in Los Gatos, CA
Los Gatos Office Center
16185 Los Gatos Blvd.
Suite 205
Los Gatos CA United States 95032
INQUIRE ABOUT
VIRTUAL OFFICES
Get A Virtual Office Now

-

Select A Plan For This Address:
Or call: [ North America: +1 888.869.9494 ] [ International: +1 949.777.6340 ]
Minimum 6 month term applies for all plans.
These add ons may be available and are additional charges:
Main building directory listing, professional admin services and professional business support center
VIRTUAL OFFICE DESCRIPTION
Need a recognizable business address in Los Gatos? Our prestigious Los Gatos Boulevard virtual office is certain to make your business stand out. Make a lasting impression on colleagues with our professional Live Receptionists to ensure you never miss that important call. Along with a well-known business address, clients have access to personalized phone numbers and mail forwarding and handling. Enjoy on-site amenities such as 24 hour access to numerous fully-equipped offices, networking opportunities, meeting rooms and more.
Virtual Office in Los Gatos, California
With remote work on the rise and probably here to stay, many have ditched the commute and are just as successful working from home. However, your business address still plays a large role in making your company seem reputable to clients. Enter your Los Gatos, California virtual office in the Los Gatos Office Center. We can help you establish your virtual office in Los Gatos today.
Los Gatos Office Center Virtual Office Features and Benefits
There's no doubt about it. Expanding a business isn't just about the address. Get the professionalism you need as you work from anywhere with our Live Receptionist plans and mail forwarding options.
Spend less time answering calls: All phone calls are expertly answered and screened by professional receptionists, minimizing distractions and so you have more time to focus on your company.
Safeguard your cell phone number: Give your enterprise the credibility it deserves with a 411-listed business phone number. No more accepting business phone calls from your personal number. Display your number on your site and get connected with the world through a market-leading Virtual Phone system.
Mail forwarding: No more worrying about going through unwelcome junk mail at your home address. With our mail-forwarding service, get mail sent to your preferred address. When you use your company's address for mail, you can keep your personal address confidential.
Eager to improve your company's reputation? We provide you and your business a comprehensive solution to virtual working. You'll receive a local Los Gatos phone number, Live Receptionist services, mail forwarding, and a recognized business address
Locations Near Los Gatos Office Center
flaticon-marker
6265 Highway 9 , Felton, CA 95018
Highway 9 Office Center
flaticon-tag
Starting at:
$62/mo
flaticon-right-arrow
flaticon-marker
20 S. Santa Cruz Ave. Suite 300, Los Gatos, CA 95030
Santa Cruz Ave. Office Center
flaticon-tag
Starting at:
$88/mo
flaticon-right-arrow
flaticon-marker
325 Soquel Ave. , Santa Cruz, CA 95062
Soquel Ave. Office Center
flaticon-tag
Starting at:
$85/mo
flaticon-right-arrow
flaticon-marker
100 S. Murphy Ave. Suite 200, Sunnyvale, CA 94086
Murphy Ave. Office Center
flaticon-tag
Starting at:
$88/mo
flaticon-right-arrow
flaticon-marker
1900 Camden Ave. Suite 101, San Jose, CA 95124
Silicon Valley Business Center
flaticon-tag
Starting at:
$78/mo
flaticon-right-arrow
flaticon-marker
8407 Central Avenue , Newark, CA 94560
Central Avenue Office Center
flaticon-tag
Starting at:
$65/mo
flaticon-right-arrow