Virtual Office Space at Cinco Village Center Blvd. | Katy, TX, 77494
Affordable Virtual Business Addresses for Katy businesses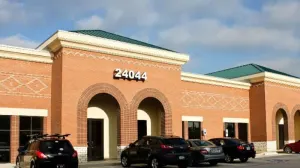 Cinco Village Center Blvd. in Katy, TX
Cinco Village Office Center
24044 Cinco Village Center Blvd.
Suite 100
Katy TX United States 77494
INQUIRE ABOUT
VIRTUAL OFFICES
Get A Virtual Office Now

-

Select A Plan For This Address:
Or call: [ North America: +1 888.869.9494 ] [ International: +1 949.777.6340 ]
Minimum 6 month term applies for all plans.
These add ons may be available and are additional charges:
Main building directory listing, professional admin services and professional business support center
Platinum Plus Plans:
Board rooms, seminar rooms and training rooms are not included in 16 hours of meeting room time.
VIRTUAL OFFICE DESCRIPTION
Need a recognizable business address in Katy, Texas? Our affordable virtual office located just west of Houston is guaranteed to make your business stand out. Make a lasting impression on colleagues with our professional Live Receptionists to ensure you never miss that important call. Along with a well-known business address, clients have access to personalized phone numbers, as well as mail forwarding and handling services.
Virtual Office in Cinco Ranch, Texas
Business as usual is anything but usual these days, and many don't require a brick-and-mortar office. However, your company's address still plays a large role in forming your reputation with clients. Enter your Cinco Ranch, Texas virtual office in the Cinco Village Office Center. We will assist you in establishing your virtual office in Cinco Ranch in no time.
Cinco Village Office Center Virtual Office Features and Benefits
Expanding a company isn't just about location. We'll help you stay professional while you work remotely with our Live Receptionist plans and mail forwarding options.
Increase efficiency and focus on your business: Every time you have an incoming call, our expert receptionists screen and answer it so you don't have to. Instead, concentrate on your work.
Protect your cell phone number: Keep business and personal calls separate with a dedicated 411-listed business phone number. Publish your local Cinco Ranch number on any business collateral like your business cards or website. Connect your team with customers using our leading Virtual Phone system.
Mail forwarding: Have your company mail forwarded to the address of your choosing for the postal rate plus a small handling fee. Using your company's address for mail shields your residence from unwelcome junk mail and keeps your home address private.
Eager to advance your business? We offer your business a comprehensive solution to working virtually. You'll receive a recognized Cinco Ranch business address, Live Receptionist services, mail handling, and a local phone number
Locations Near Cinco Village Office Center
flaticon-marker
1000 Main Street Suite 2300, Houston, TX 77002
1000 Main
flaticon-tag
Starting at:
$99/mo
flaticon-right-arrow
flaticon-marker
1300 W Sam Houston Pkwy S Suite 100, Houston, TX 77042
Sam Houston Pkwy Office Center
flaticon-tag
Starting at:
$59/mo
flaticon-right-arrow
flaticon-marker
440 Louisiana St. Suite 900, Houston, TX 77002
Lyric Centre Downtown Center
flaticon-tag
Starting at:
$49/mo
flaticon-right-arrow
flaticon-marker
5718 Westheimer Suite 1000, Houston, TX 77057
Westheimer Office Center
flaticon-tag
Starting at:
$79/mo
flaticon-right-arrow
flaticon-marker
5850 San Felipe Street Suite 500, Houston, TX 77057
San Felipe Office Center
flaticon-tag
Starting at:
$65/mo
flaticon-right-arrow
flaticon-marker
9801 Westheimer Road Suite 300, Houston, TX 77042
Westheimer Road Office Center
flaticon-tag
Starting at:
$65/mo
flaticon-right-arrow