Rue Breydel, 34-40 Virtual Office | Brussels, 1040
Brussels Virtual Business Address & Live Receptionist Answering Service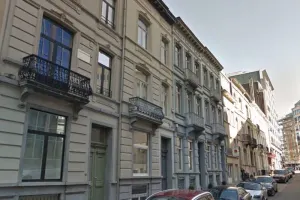 Rue Breydel, 34-40 in Brussels, BE
Live Receptionist & Virtual Office Space
Schuman
Rue Breydel, 34-40
Brussels Belgium 1040
INQUIRE ABOUT
VIRTUAL OFFICES
Get A Virtual Office Now

-

Select A Plan For This Address:
Or call: [ North America: +1 888.869.9494 ] [ International: +1 949.777.6340 ]
Minimum 6 month term applies for all plans.
These add ons may be available and are additional charges:
Main building directory listing, professional admin services and professional business support center
Platinum Plus Plans:
Board rooms, seminar rooms and training rooms are not included in 8 hours of meeting room or private office time
VIRTUAL OFFICE DESCRIPTION
Located in the heart of the EU area at Schuman square this Brussels virtual office provides easy access to the subway and local motorways. This exquisite mansion in "Pierre de France" style comes fully equipped with on-demand features with the newest technologies, modernly designed furniture, conference rooms, day offices and hot-desking features. This Brussels virtual office is a top choice for businesses of all types, including financial and banking, real estate, legal, healthcare and more.
Locations Near Schuman
flaticon-marker
35 Rue du Congrès , Brussels, 1000
Congress
flaticon-tag
Starting at:
$88.5/mo
flaticon-right-arrow
flaticon-marker
Rue des Colonies 56 , Brussels, 1000
Brussels Central Station
flaticon-tag
Starting at:
$140.42/mo
flaticon-right-arrow
flaticon-marker
Dendermondestraat 44 , Antwerp, 2018
Dendermondestraat 44 Office Center
flaticon-tag
Starting at:
$90/mo
flaticon-right-arrow
flaticon-marker
Boulevard Saint-Michel, 47 , Brussels, 1040
Boulevard Saint-Michel Office Center
flaticon-tag
Starting at:
$147.5/mo
flaticon-right-arrow
flaticon-marker
Rue Abbe Cuypers, 3 , Brussels, 1040
Cinquantenaire
flaticon-tag
Starting at:
$88.5/mo
flaticon-right-arrow
flaticon-marker
Luchthaven Brussel Nationaal 1K , Zaventem, 1930
Luchthaven Brussel Nationaal Office Center
flaticon-tag
Starting at:
$140.42/mo
flaticon-right-arrow