N. Vineyard Avenue Virtual Office | Ontario, CA, 91764
Build Your Business with a Virtual Business Address From Alliance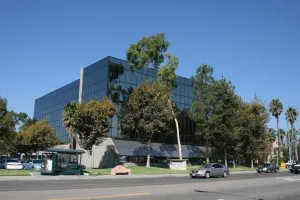 N. Vineyard Avenue in Ontario, CA
Live Receptionist & Virtual Office Space
Ontario Airport Center
337 N. Vineyard Avenue
Suite 400
Ontario CA United States 91764
INQUIRE ABOUT
VIRTUAL OFFICES
Get A Virtual Office Now

-

Select A Plan For This Address:
Or call: [ North America: +1 888.869.9494 ] [ International: +1 949.777.6340 ]
Minimum 6 month term applies for all plans.
These add ons may be available and are additional charges:
Main building directory listing, professional admin services and professional business support center
Platinum Plus Plans:
Board rooms, seminar rooms and training rooms are not included in 16 hours of meeting room time.
VIRTUAL OFFICE DESCRIPTION
Our notable virtual office in Ontario is perfect for businesses large and small. Virtual office clients will have access to dependable Live Receptionists, efficient mail handling, inspiring private offices, and a comfortable meeting rooms to ensure your clients get the best treatment. Get a recognized business address and help your company thrive with various amenities such as reliable call answering services and access to multiple on-site meeting rooms with flexible plans to suit your needs.
N. Vineyard Avenue Virtual Office in Ontario, California
With remote work on the rise and probably here to stay, many have traded their long commutes for working from home. However, your business address still plays a crucial role in making your business seem reputable to clients. Enter your Ontario, California virtual office in the Ontario Airport Center. We can support you in setting up your virtual office in Ontario in no time.
Ontario Airport Center Virtual Office Features and Benefits
Alliance Virtual Offices has more than 1100 locations in 40 countries with more added every day. Our customers choose us because they know they need their office address to be something other than their home or a P.O. box. And whether you select the Ontario Airport Center or another Ontario virtual office, you can expect us to maintain the professionalism you expect. Our mail forwarding service and Live Receptionist plans will help you stay professional while you work from anywhere.
Save time and focus on your business: Every call is expertly screened and answered by professional receptionists, which reduces distractions, so you have more time to concentrate on your business.
Keep your mobile number protected: Separate personal and business calls with a dedicated 411-listed business phone number. Publish your number on your company's website and connect your team with the world through a market-leading Virtual Phone system.
Mail forwarding: No more frustration about sorting unwelcome junk mail at your home address. With our mail-forwarding service, get mail sent to the location of your choosing. When you use your business's address for mail, you can keep your home address private.
Ready to advance your business? We supply you and your business a solution to virtual working. You'll get an established Ontario business address, Live Receptionist services, mail handling, and a local phone number
Locations Near Ontario Airport Center
flaticon-marker
155 N. Riverview Drive , Anaheim Hills, CA 92808
Riverview Drive Office Center
flaticon-tag
Starting at:
$95/mo
flaticon-right-arrow
flaticon-marker
2934 E. Garvey Ave. South Suite 250, West Covina, CA 91791
Garvey Building
flaticon-tag
Starting at:
$90/mo
flaticon-right-arrow
flaticon-marker
3350 Shelby Street Suite 200, Ontario, CA 91764
New Pointe Plaza
flaticon-tag
Starting at:
$89/mo
flaticon-right-arrow
flaticon-marker
9431 Haven Avenue Suite 100, Rancho Cucamonga, CA 91730
Haven Avenue Business Center
flaticon-tag
Starting at:
$50/mo
flaticon-right-arrow
flaticon-marker
8175 Limonite Ave. Suite A, Riverside, CA 92509
Limonite Ave. Office Center
flaticon-tag
Starting at:
$75/mo
flaticon-right-arrow
flaticon-marker
7710 Limonite Ave. Suite E, Riverside, CA 92509
Limonite Ave. Office Center
flaticon-tag
Starting at:
$75/mo
flaticon-right-arrow