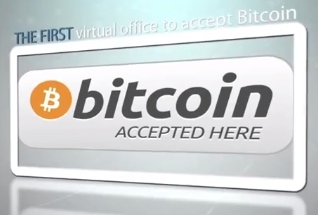 Got Bitcoin?
Did you know you can use it to rent a business mailing address, book meeting rooms, and even have your very own receptionist answer calls for you? Alliance Virtual Offices has a global network of virtual offices and business services, with fantastic support packages on offer to help your business get off the ground – and stay there.
Allow us to explain.
Most fledgling and startup firms don't need a physical office – but they do need an office address with a local area code. That's where a virtual office comes in. Rather than paying extortionate fees for bricks and mortar, you can simply hire the address instead. When mail turns up at your chosen building address, it will be redirected to the destination of your choice. You can also add a local phone number, and have a receptionist answer calls in your company name. It's all part of the service.
[custom_block description='Still meeting in coffee shops? Upgrade your meeting venue without the luxury price tag. Choose a San Diego
Meeting Room
and book by the hour or by the day. Simple, affordable, professional.' image='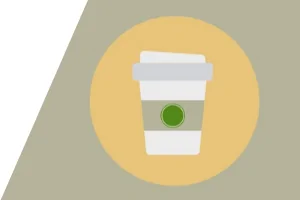 ' link='
Start now!
']
That's what we do. Now back to Bitcoin.
As a virtual company, it's only right that we accept a virtual currency. We've been accepting Bitcoin since 2013, and we offer it as an online payment option alongside the regular credit card method.
Here's how to pay Alliance Virtual Offices with Bitcoin:
Checkout: Once you're ready to checkout, you'll see the option to pay with Bitcoin under the 'Payment Information' header. Click 'Pay With Bitcoin' and tick 'I Agree to the Terms of Service'.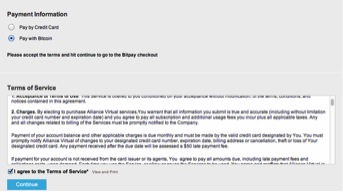 Review your information and booking on the following page. If you are satisfied with the information, click the Bitcoin payment button to complete your order.
When you click the Bitcoin payment button, you will be presented with an invoice which you can pay with your Bitcoin wallet. Note, you may need to send further documentation to Alliance Virtual Offices so that your Virtual Office services can be confirmed.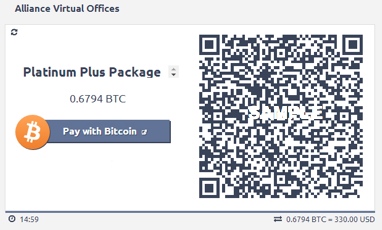 As ever, if you have any questions, feel free to contact us and we'll be happy to help out.
Happy (virtual) shopping!