Talk about aggressive. eVoice is throwing down the virtual office gauntlet with an offer that you may not be able to afford to refuse. eVoice is offering new customers a six-month trial on its virtual numbers services. I've never seen anything quite like it in the virtual office or virtual receptionist industry.
eVoice is also working to make sure consumers know how simple it is to use virtual office technologies. The company has developed a new guided tour video that shows you, step by step, how to set up a local or toll-free number. If that's not enough, eVoice is even offering personalized U.S.-based VIP set up support for new accounts during the trial period. What more could you ask for? Seriously. This is a deal worth exploring.
"Our new tutorial video demonstrates why eVoice has become the virtual phone service of choice for so many small business owners today," says Mike Pugh, vice president of Marketing for j2 Global Communications, the parent company of eVoice. "Besides the six-month free trial and affordable monthly plans, the service can be quickly and easily configured and put to use."
Pugh promises that any customer can visit eVoice.com and have a working business phone number with advanced features normally found on much more expensive, sophisticated systems within minutes. Those are strong words.
---
Shameless Plug Ahead!
Hey, there! Want to streamline your remote business? Get a professional Virtual Office with mail forwarding, appointment scheduling, and live receptionist services.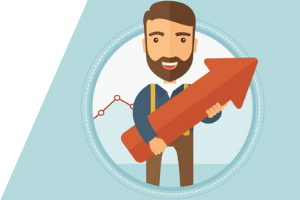 ---
Let's find out how the whole virtual office phone system works:
Select a local or toll-free number.
Customize where calls to that number will ring, such as home, office, or cell phone. You can choose up to five phones.
Send the calls to all designated phones at once, or sequentially one at a time until someone answers. This way, you are less likely to miss important calls and you don't have to hand out your personal number.
What do callers hear? If you don't answer, callers are greeted by an auto attendant with a customized and professionally recorded greeting. The auto attendant instructs calls to press numbers that coincide with the departments you set up. For example, they may press 1 for sales or 2 for customer service. Or maybe they press 1 for Jane Smith and 2 for John Doe. You get the idea. You can set up each extension to ring any designated phone number. And here's a cool feature: if a caller leaves a message, the voicemail is transcribed and e-mailed to you.
Finally, don't forget to ask about the exclusive VIP set up when you sign up for your six-month free trial. The company's exclusive VIP setup and support offers customers who sign up for second and third tier plans with "white glove" treatment during setup. After you sign up, an eVoice representative will call you to walk you through each aspect of account setup. They leave you with a "thanks" and an 800 number for 24/7 direct access to a U.S.-based eVoice customer service representative.