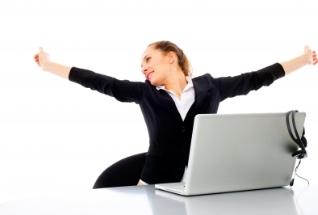 When you're a hardworking small business owner, a freelancer, or part of a remote corporate team, it can be a challenge to juggle the day-to-day demands of running a business as well as actually growing your business too.
And annoyingly, sometimes the most time-consuming tasks are the ones that don't actually bring in any revenue. Just think, how many minutes in the day do you spend replying to emails? Or picking up the phone to that chatty client for the umpteenth time? Or chasing your colleagues to get a meeting arranged – only for one of them to drop out at the last minute?
We all feel your pain. And thankfully, some very clever techno-gurus feel it too. Which is why we are now privy to a fantastic range of tools to help make your virtual office run smoothly, simply, and as stress-free as possible.
Let's take a look at some of the most popular virtual technology tools out there:
Cloud technology: Cloud storage has revolutionized the way we do business. Forget emailing documents to yourself – with smart, free tools like Dropbox, you can now synch all of your PCs or mobile devices, and whizz files to your colleagues in seconds. It's secure too, with additional encryption available to keep secret files safe and secure.
Mobile technology: You don't need us to tell you how this is transforming the way we live and work. With mobile devices like smartphones, tablets and laptops, we're breaking down geographical boundaries and working wherever we please. Hold onto your hats, because the virtual office is taking off, big style!
Call notes: How many times have you been on a call, and couldn't find a pen to write down the essential details? With clever apps like Google Voice and Tote Notes, you can now record a voice note and then send it to yourself in MP3 format, with a text transcription too. Neat.
Project management: Love it or loathe it, project management is what makes things happen. But it also creates a LOT of backwards-and-forwards communication. Instead, a great way to help keep everything ticking along nicely is to use an online management software, like Asana or Producteev. This keeps everything tidy with details of projects (past and present), assignees, attachments, notes, deadlines, the lot. The software varies enormously, but many are free and can help make management processes a breeze – especially for virtual office teams.
Password protection: Technology is a wonderful thing, but don't you just hate having to remember all those passwords? Well now there's an app for that. Tools like Keeper Mobile keep a list of all your important passwords and log-in details in one easy-to-find place. There's one master password and it's all protected with military-grade encryption.
That's just some of the great virtual office tools that have caught our eye recently, but the tech wizardry doesn't stop there.
When you choose a virtual office through Alliance Virtual you'll have the option to take on some of the best tools and services in the business. We're talking a killer virtual phone system that offers a wide range of virtual communications solutions, courtesy of Phone.com (Alliance partnered with Phone.com in 2010 and hasn't looked back since).
And if you prefer your services a little more human, Alliance Virtual has a wonderful team of virtual receptionists who are ready and waiting to answer calls for you. It's not just a friendly upgrade from voicemail, it's the whole package – professionalism, great first impressions, and a super-efficient call handling service.
In short, it's everything a growing business – and an overworked business owner – needs!
Find out more about our virtual receptionists, phone systems and virtual office locations online at AllianceVirtualOffices.com.