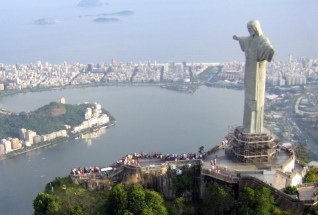 Here's one city that's getting plenty of airtime: Rio de Janeiro, and it's not hard to see why.
As of tomorrow, there are 1,000 days to go until the global spotlight falls on Rio. From August 5th to 21st 2016, this fabulous Brazilian city will host the 31st Olympic Games, when more than 10,500 athletes from over 200 nations around the world will come together to battle it out for Olympic glory.
This will mark the first time that a South American city hosts the event – but Rio is no stranger to the global stage.
Full of Brazilian fire and Latin American spirit, Rio sums up images of boisterous carnivals and sultry samba, of glittering white beaches and soaring mountainous peaks, of dense steamy jungles and lost cities. The famous Rio de Janeiro Carnival brings revellers from far and wide, while culture vultures come to pay homage to Christ the Redeemer atop Corcovado mountain, one of the New Seven Wonders of the World.
Beach-lovers get their kicks on the famous Copacabana Beach, and of course, who couldn't resist a trip to Rio without passing by some of the cavernous stadiums that produced such global superstars as Pelé, Romário and Ronaldo?
If that's got you geared up and thinking big, check out our virtual office in Rio de Janeiro and grab your own piece of the action. This fabulous Rio workspace is based on Av. Rio Branco 120, Centro, and serves up everything you need to grow your business in style, in Brazil's second largest city.
A top business address in the heart of the action? Check. Day offices and coworking space? Yep. Knock-out meeting space to impress your clients? You bet.
It's all here. So check out our gold-standard virtual office space in Rio and get your business on the podium to success!
We've also got virtual offices in Sao Paulo, Brazil.